The launch of the new Derek Cardigan Grammar Collection of eyeglasses takes you back to English 101 with bold glasses styles that feature unique colon and semi-colon detailing on the temples.
To give these unique details the attention they deserve, we decided to pair various glasses styles from the Grammar Collection with a comfy gold cable knit sweater.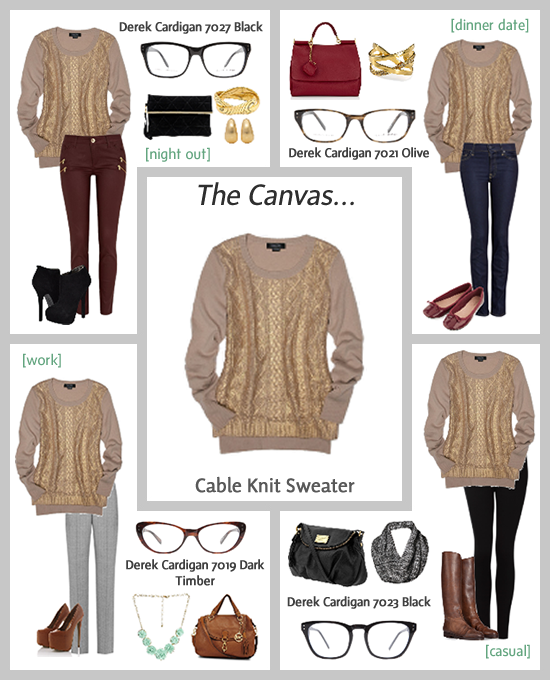 The Looks
Night Out
Pair this gold cable knit sweater with a pair of zipper heavy skinny jeans in oxblood and suede sky high ankle boots. Accessorize with chunky gold jewelry and one of the larger Retro-Wingtip designs from the Grammar Collection, the Derek Cardigan 7027 Black eyeglasses.
Dinner Date
If you're heading out to grab a bite, wear this gold cable knit sweater with your favourite dark wash skinny jeans, red patent leather ballet flats and a structured oversized purse to match. Put this gold cable knit sweater to use by letting its gold shimmer highlight the warm colours seen throughout these Derek Cardigan 7021 Olive eyeglasses.
Casual
For the perfect on-the-go look, wear this gold cable knit sweater with black leggings and brown leather riding boots. Accessorize with a comfy infinity scarf, black leather satchel and fun vintage-inspired Derek Cardigan 7023 Black eyeglasses that feature a keyhole cutout on the nose bridge.
Work
Give your nine to five look a fresh take by pairing a classic pair of grey trousers with this gold cable knit sweater. Accessorize with heels and an oversized shoulder bag in a warm neutral colour such as chestnut brown. Finish off this business ready look with the Derek Cardigan 7019 Dark Timber eyeglasses that feature a strong cat eye design in a rich brown hue.