The rave prints trend stems from runway patterns showcasing graphic arts and geometric elements. These prints tend to stand out within an outfit and really catch your eye. Of course, we thought it was perfect for one of our fall glasses trends. See how we styled three different rave prints frames.
---
GINGHAM
---
For the
Bottega Veneta BV148 RI8 Cross Blue Ink glasses
we thought a classic black 'night out' look was the perfect outfit for these frames. Cool yet chic, the glasses feature a blue gingham pattern within a translucent crystal base. We've matched it with black ripped jeans, a leather jacket and black peep-toe style boots to give lift to an understated look. We've accessorized with a blue clutch to add a complementary pop of colour to the glasses.
---
LACE
---
These Valentino V2620 035 Grey glasses with a lace pattern are versatile enough to be dressed up or down and we've chosen to keep it casual but ultra trendy. The outfit consists of green corduroy pants, a blue button up shirt and a patterned cardigan to match the frames. We love oxblood during fall so we've added a pair of Chelsea boots and a matching purse for an extra pop of colour.
---
BENGAL
---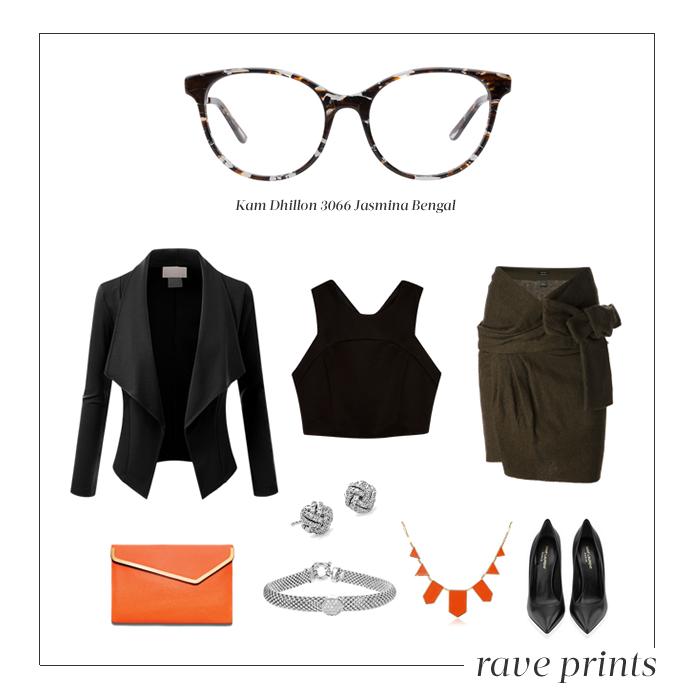 For your date night, throw on our
Kam Dhillon 3066 Jasmina Bengal glasses
with a dark green wraparound skirt, a black crop cop and fitted draped blazer to match the fierce pattern of the glasses. We've added a bright orange clutch and an orange leather necklace to bring out the subtle specks of orange in the frame and finished with a simple necklace and stud earrings to keep it ultra chic.
---