More From New York Fashion Week »
With New York Fashion Week having just wrapped up, we take a moment to reflect on the overarching themes for Fall 2013 and illustrate how these trends can be showcased through your personal eyeglasses stye.
Powerful designs void of colour was a strong trend on the runways during New York Fashion Week.
Michael Kors explained that there is a "tug of war between the athleticism and Park Avenue polish, it can go uptown and downtown which is the best of both worlds" and to make it in the big city "you have to be built for speed and endurance and athleticism".
A similar feeling was seen on the runway at Jason Wu, with head designer Tim Blanks noting that "this is Park Avenue gone bad".
Altuzarra's fashion hairstylist, Paul Hanlon, noted that he found their collection to be "a bit Patti Smith, not too bourgeois, the girl who goes to work during the day but parties at nighttime".
Calvin Klein's designs at New York Fashion Week elicited a similar emotion by including patent leather within his collection, both in belted trenches and knee high boots.
For something a little more off the fashion-beaten-path, there were the seductive and elaborate designs of Marc Jacobs, Diane von Furstenberg, Tory Birch and Marchesa.
Marc Jacobs' Fall 2013 collection (main article image) was the epitome of the lust for life theme with his showstopping designs featuring shimmering sequins, metallic shine and luxurious textures. With a star studded crowd, including rock superstar Debbie Harry, Marc Jacobs knows what people want, "simple clothes — the ones that give us pleasure" he continued "it's a no-brainer."
Georgina Chapman and Karen Craig, the head designers for Marchesa, played with delicate detailing, sheer chiffon and deep red hues within their Fall 2013 collection.
When asked to describe her Fall 2013 collection at New York Fashion Week, Diane von Furstenberg stated that it was, "really going back down to the core of DVF it was a little bit inspired by David Bowie when he was young and a little bit by me when I was young […] it's the attitude of getting dressed… life is a party".
Tory Birch, who opened with her show on Tuesday, described what inspired her Fall 2013 collection, "I've always been a fan of art nouveau and I love Klimt's work so it was really just looking at some of his works and seeing how much depth and texture and layering of colour and embellishment".
A common theme seen throughout New York Fashion Week was structured pieces inspired by classic menswear designs.
Theyskens' Theory focused on pairing boxier pieces, such as a single button blazer, with ultra feminine pieces such as a black leather miniskirt.
The Row presented perfectly tailored pantsuits in a midnight blue colour tone that were accessorized with open-toed heels and simple accessories.
Marcus Wainwright, the designer of Rag & Bone, described their Fall 2013 designs as "very Rag & Bone man, but for a girl," which circles back to when the brand only focused on menswear.
At Prabal Gurung, show attendees including model and actress, Jaime King, were wowed by the futuristic take on this trend of borrowed from the boys. King noted, "What I love about him is his brilliant mix of masculine and feminine." Gurung is quoted, "women have this incredible tool and asset of their femininity that they can really use and embrace it and possibly rule the world".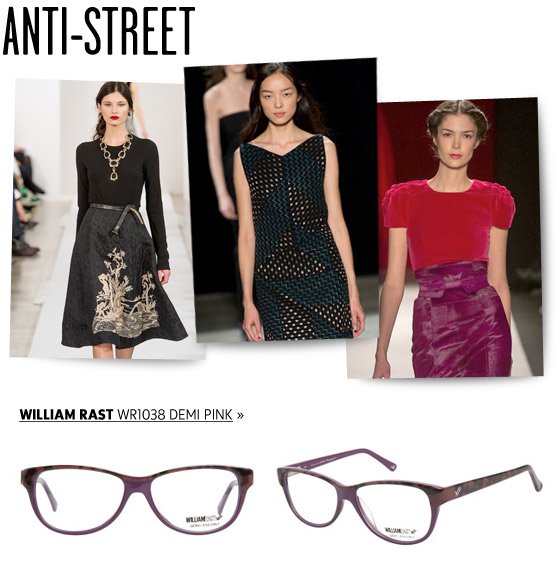 There has been a notable trend in fashion over the last few years, and that's street style. During New York Fashion Week though, some designers showcased a change of heart through feminine textures, luxurious fabrics and designs that celebrated the feminine figure.
Oscar de la Renta, who is not only in his 80th year but will also celebrate 50 years in fashion this year, showcased his everlasting love for the feminine figure by featuring a-line skirts, simple heels, and a classic red lip.
Narciso Rodriguez's collection at New York Fashion Week included feminine dresses that featured clean lines and geometric prints that added intrigue.
At Carolina Herrera, hip hugging full length skirts were paired with luxurious velvet tops. Her Fall 2013 woman, who was described by Style.com as "a heroine of the 1940's", walked down the runway to the renowned London Contemporary Orchestra.