As October continues, we are excited for the support that we have received for our Pink Glasses campaign in partnership with Rethink Breast Cancer. For each purchase sold this month from our Pink Glasses Collection, $25 is donated to Rethink Breast Cancer who aims to "foster a new generation of young and influential breast cancer supporters".
The Pink Glasses Collection has been featured in some of our favourite magazines and shows, including Flare, LouLou, Steven and Chris and Breakfast Television, as well as newspapers across Canada.
Social media has also helped bring awareness to a number of important causes, and this year Battle Pink brought together a number of bloggers to face off in a styling challenge. For each vote Penguin Books donated $1 to Rethink Breast Cancer, and ultimately The Style House was the winning stylist of our Derek Cardigan 7003 Pink glasses.
This year, some of our favourite bloggers have each modeled their favourite ClearlyContacts.ca exclusive pink glasses. They include (clockwise from top left): Lauren O'Neil (Lauren Out loud), Tazim Damji (Being Tazim), Sharan Sumal (VanCityBuzz), Casie Stewart (This is My Life), Gloria Chik (urbanebloc), Jacqueline Parrish (ANOKHI Magazine), and Valerie Tiu (Vancouver is Awesome).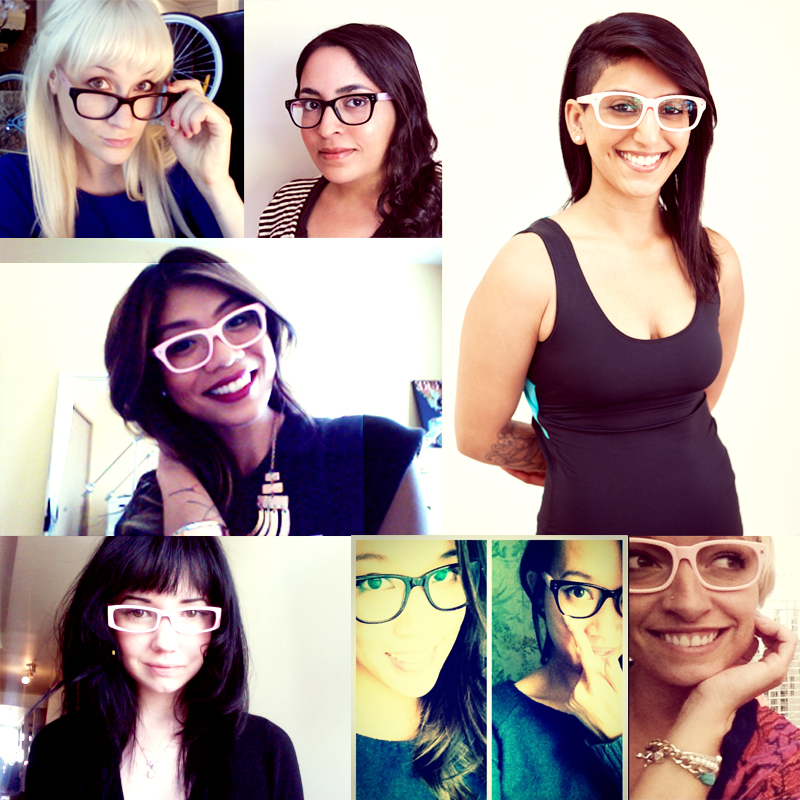 We loved seeing our pink glasses at the Boobyball, organized by Rethink on October 12th in Toronto. Perhaps inspired by Moonrise Kingdom, the event presented an irreverent Camp Booby theme with attendees dressed in their best summer camp attire. ClearlyContacts.ca was happy to participate at the event by sending along a photo booth where everyone could show off their style while sporting their pink frames.
Eyewear provides a great opportunity to show your support for Breast Cancer Awareness year-round; check out our Pink Glasses Collection today for your ideal pair.