As a creator of beautiful planners and stationery, Marissa is always looking for ways to reinvent new things and spruce them up! Her passion for planners started when she was young and she realized quickly that she had a knack for making them her own. With such an innate skill, we feel Marissa has great insight on how you can reinvent your eyestyle this year.
How do glasses impact your style choices? I see glasses as accessories. They are of course necessary but that doesn't mean they shouldn't make you look your best. If you have a couple different pairs that all serve slightly different purposes you are good to go. I think of them the same way I do of purses. They are necessary but you want them to look fabulous with the outfit your wearing so we all buy a few key pieces that are sure to look great every time.
Why are glasses such an amazing fashion accessory? Glasses are such an amazing fashion accessory because they can transform your entire look. I feel that even with very little makeup on, a pair of awesome glasses can do the job much better than heavy eye makeup and I find that you end up looking a lot more professional.
What's your number one new year resolution? My number one new year resolution is to start building a strong team that will carry Design Love Co. to the next level. I want to start sharing my vision with other young individuals who are just as passionate about doing cool things as I am.
What's a tip on matching frames to a particular look? My tip is this: if your outfit is super colourful go for frames that are a little bit more understated (maybe even nude or white) and if you outfit is business-like, or a bit more casual, go for frames that stand out and make a statement.
How did you hear about ClearlyContacts.ca? I heard about ClearlyContacts through various different bloggers around the city and Teresa Li who contacted me.
How/why did you start Design Love Co? I started Design Love Co. because I was looking for something to do that I was passionate about. Instead of working for someone else's future I wanted to focus more on mine and build a team that could help reinforce that vision. In doing my research I found that there was a need for beautiful stationery products for young professional women like me who were fashion conscious. Design Love Co was born!
What's next for Design Love Co? Design Love Co is currently working on it's next planner which will launch in April or May and we will be launching a new product line in the next week or so. 2015 will also bring our first leather goods and we can't share too much about that yet but it's going to be exciting.
---
EYESTYLE #1 | CHIC PASTEL
---
I chose this pair because a little pop of pink went really nicely with a neutrally toned professional outfit.
---
EYESTYLE #2 | BOLD TORTOISE
---
This pair was a funky accessory to add to an already fun look for a night out.
---
EYESTYLE #3 | RETRO CASUAL
---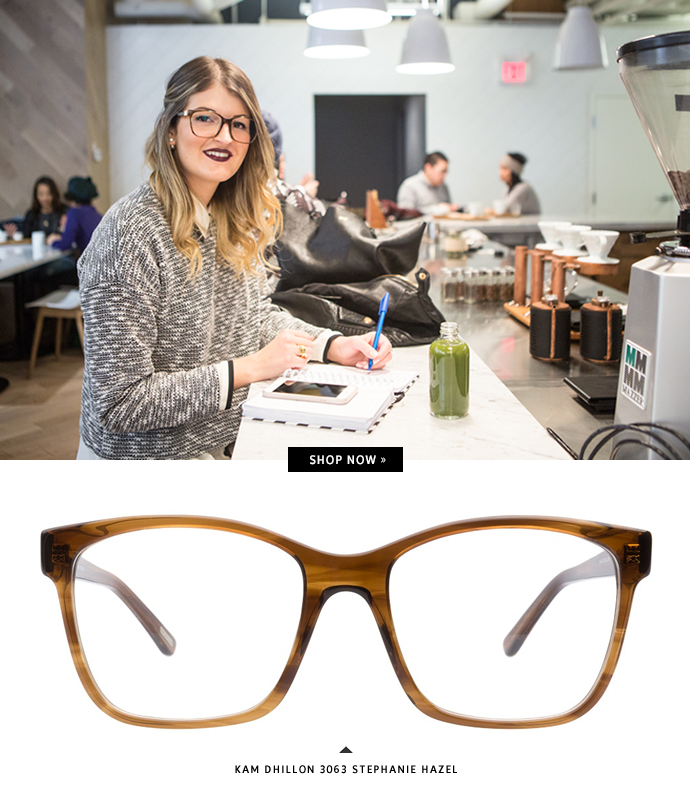 I loved the combination of the bigger frames with a sort of collared shirt and sweater. It really allows for that perfectly preppy look.
---