More From New York Fashion Week »
Our editors capture the hottest trends in fashion and eyewear at New York Fashion Week from fashion bloggers, designers, and all around fashion lovers such as Kelly Cutrone, Mondo Guerra and Michael Costello during Mercedes-Benz Fashion Week at Lincoln Center.
Kelly Cutrone/Fashion Publicist/Founder of People's Revolution
Kelly Cutrone, fashion publicist and star of popular television series, Kell on Earth and The Hills, adds some lightness to her typical all black attire with an oversized cream coloured knit scarf and white leather tote that features textured detailing. Kelly Cutrone is wearing black aviator sunglasses by Paul Smith.
A show attendee multitasks while looking fabulous in black oversized sunglasses, a wide-brimmed burgundy hat, glossy patent leather handbag and graphic coat.
Aimee Song/Interior Designer & Fashion Blogger/Song Of Style
Aimee Song, famous for her interior design work and fashion blog, Song of Style, opts for a Spring ready look with a vibrant yellow double breasted wool trench and two piece floral pant suit.
Watch interview with Aimee & others: Style Talk at Mercedes-Benz Fashion Week »
A fashion photographer spotted outside Lincoln Center wearing Derek Cardigan eyeglasses in black acetate.
Mondo Guerra/Fashion Designer/Winner of Project Runway: All-Stars
Mondo Guerra, who is known for his powerful designs on Project Runway, can't be missed at New York Fashion Week. His eclectic style featuring bold patterns, bright colours and always unique eyeglasses choices sets him apart from the rest.
Watch interview with Mondo & others: Style Talk at Mercedes-Benz Fashion Week »
This show attendee adds a touch of warmth to her all black attire with Lacoste eyeglasses featuring wide arms in a light cream tone.
Michael Costello/Fashion Designer/Finalist of Project Runway
Michael Costello, similar to Mondo Guerra, is known for his time on the popular fashion television series, Project Runway. Michael Costello opts for a classic look in various shades of grey. Michael is seen wearing black Retro-Wingtip sunglasses with lenses that feature a gradient tinting.
Danielle Bernstein/Fashion Blogger/We Wore What
Danielle Bernstein of the popular fashion blog We Wore What is swarmed by paparazzi during New York Fashion Week. Danielle Bernstein's striking mix of accessories, such as a custom necklace from Dylanlex, black leather baseball cap, chunky metal rings and gold aviator sunglasses, make this look gossip worthy.
Accessories featuring studded detailing is a must-have during New York Fashion Week.
Joseph Gualtiere/Editor-In-Chief/Uptempo Magazine
Joseph Gualtiere, Editor-In-Cheif for Uptempo Magazine, incorporates some of the hottest trends in fashion within his look for New York Fashion Week: leather motorcycle gloves, graphic prints, wide-brimmed hats, and oversized bags. Joseph Gualtiere is seen wearing round eyeglasses in black acetate. Fun fact: Joseph Gualtiere is an accomplished opera and backup singer for Elton John.
This fashion maven shows the power of mixing bold graphic prints with an exaggerated cow print tote and striped top.
Amy Nicole/Fashion Blogger/Viviere Bella
Amy Nicole of Viviere Bella is right on trend for New York Fashion Week with her black shaggy oversized faux fur jacket. Amy Nicole adds a hint of colour with her delicate hand chain accessory featuring turqouise stones. Amy Nicole completes her all black look with large black Retro-Wingtip sunglasses and Alexander McQueen skull clutch.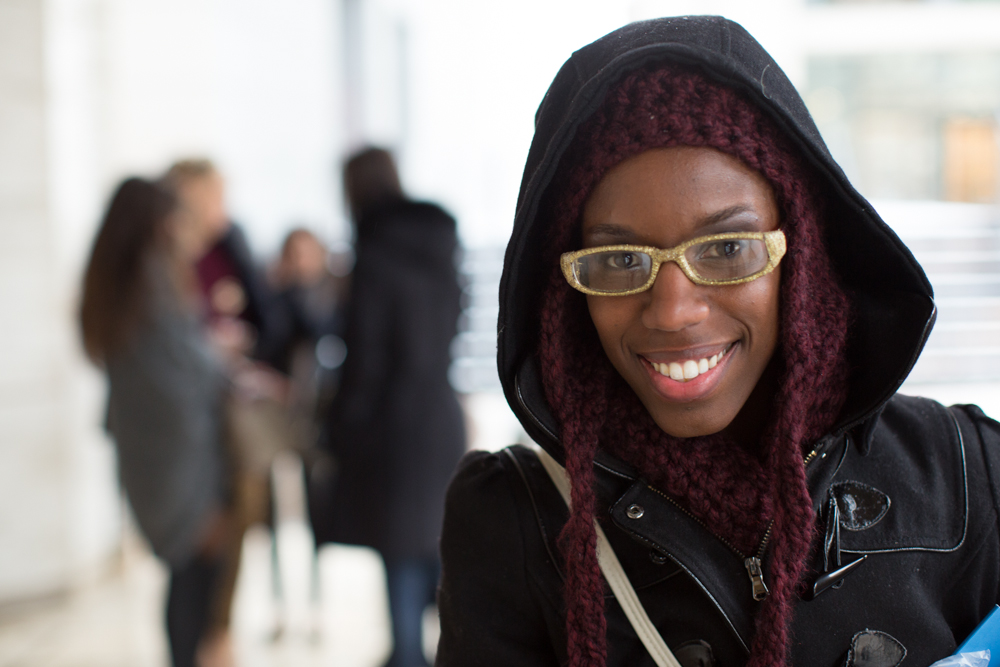 New York Fashion Week is the venue to stand out, as this trendsetter does with her earthy toned rectangle eyeglasses.
An oversized faux fur jacket is a must-have fashion staple during New York Fashion Week. What's even better is if you can match your sunglasses to it.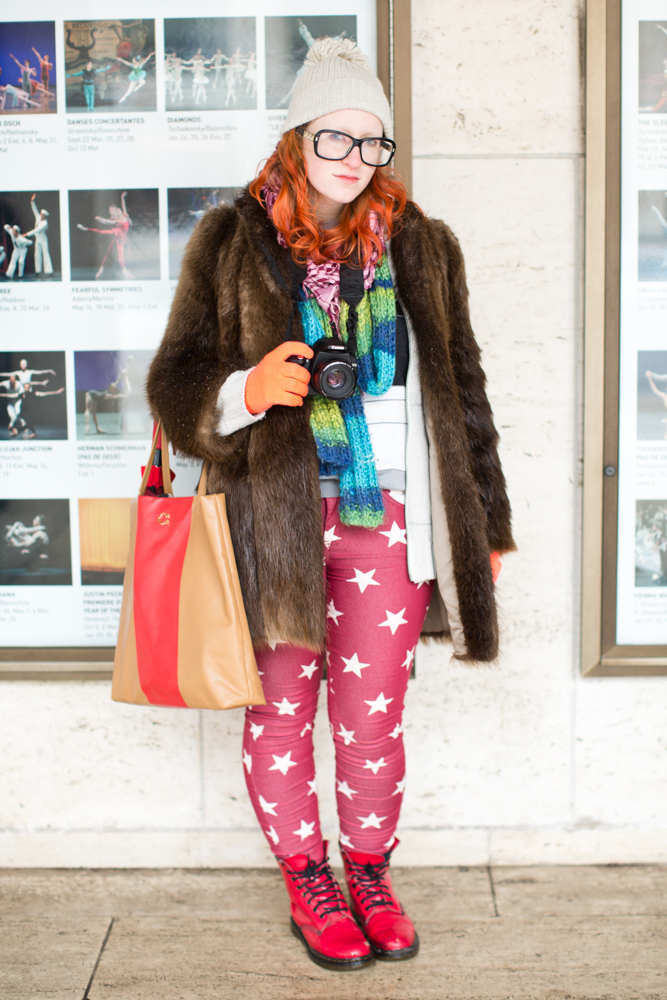 Individual style is what makes fashion so exciting, as seen with this fashion photographer's larger than life eyeglasses and unique pairing of prints and textures.
A classic pair of tortoiseshell sunglasses is the ideal accessory for any New York Fashion Week look, whether casually cool or avant-garde.
The word on the street at New York Fashion Week when it comes to what's trending in eyewear is round. Circle lenses are the must-have style as seen with this show attendee.
This fashion show goer opts for the popular and flattering Retro-Wingtip glasses style that exudes a vintage chic vibe.