When Vancouver's The Mackenzie Room opened their doors to host our Joseph Marc Craftsman shoot, we were thrilled to have the opportunity to meet, and be fed by, Chopped champion and acclaimed chef, Sean Reeve. Sean's menu (and off-menu) offerings showcase his commitment to local, sustainable and seasonal cooking following training and culinary exploration across Canada and Italy.
---
What acts as your inspiration in the kitchen?
---
What's available and seasonality. What's local, fresh, and challenging is what we look for when selecting items for the menu, and serve as inspiration for future projects.
---
How would you describe your menu at The Mackenzie Room?
---
Seasonal, local, and Mediterranean inspired. We look to what is around us to dictate what we cook.
---
What is your favourite dish?
---
Our nose-to-tail dish. It's an off-menu item, and we have a select number available – maybe one or two a night – where we showcase an entire animal. Usually it is a pig so we use every part, from snout to tail.
---
What inspires your desserts?
---
We base our desserts on the world of classic cocktails that we bake into a pie. One of our featured desserts is The Manhattan Project [a pie that pairs seasonal peaches with bourbon, orange bitters, and sweet vermouth].
---
Tell us about the growth in your career
---
Around 15 my father told me to get a job and the first place to call me back was a restaurant. I started off there as a dishwasher [and] kind of grew on the line and started to fall in love with the atmosphere, the chaos, the rush, working with your hands, and creating something that at the end of the day people eat and have enjoyment. I never thought I was going to be a chef when I was a kid. I got thrown into the environment and got captivated by it.
---
What was the turning point in your career?
---
Growing as an individual, and having the opportunity over the last 3-4 years to travel, try different cuisines, meet different people, and experience different cultures. Having the ability to gain this experience has grown me into the individual that I am today, and ultimately the cook that I am. Now, I cook much more simply, allow the flavours to speak for themselves, and showcase all the beautiful ingredients that we have around us today.
---
What does 'simple' mean to you?
---
Every component is there for a reason. It harmonizes the dish and brings it all together with balance. When [you're] younger you try to throw every trick that you know, every new technique that you've learned onto the plate, and it generally becomes muddled.
---
How did your life change after being on Chopped?
---
It's always funny when someone asks if you've been on television, but it gave me the opportunity to compete, which I love to do, and to take home a little money and put it towards the restaurant that I now run with my business partners, Katie and Andrew.
---
Where do you see yourself going next?
---
Definitely ambitious. I take everything in stride, and right now my focus is The Mackenzie Room and creating something special here that you might not see in Vancouver. Moving forward I do have aspirations to open more than one restaurant, write a cookbook, and ultimately to have my own farm where we can showcase what we do well here in the province of British Columbia and have it as a destination for people to experience what we do.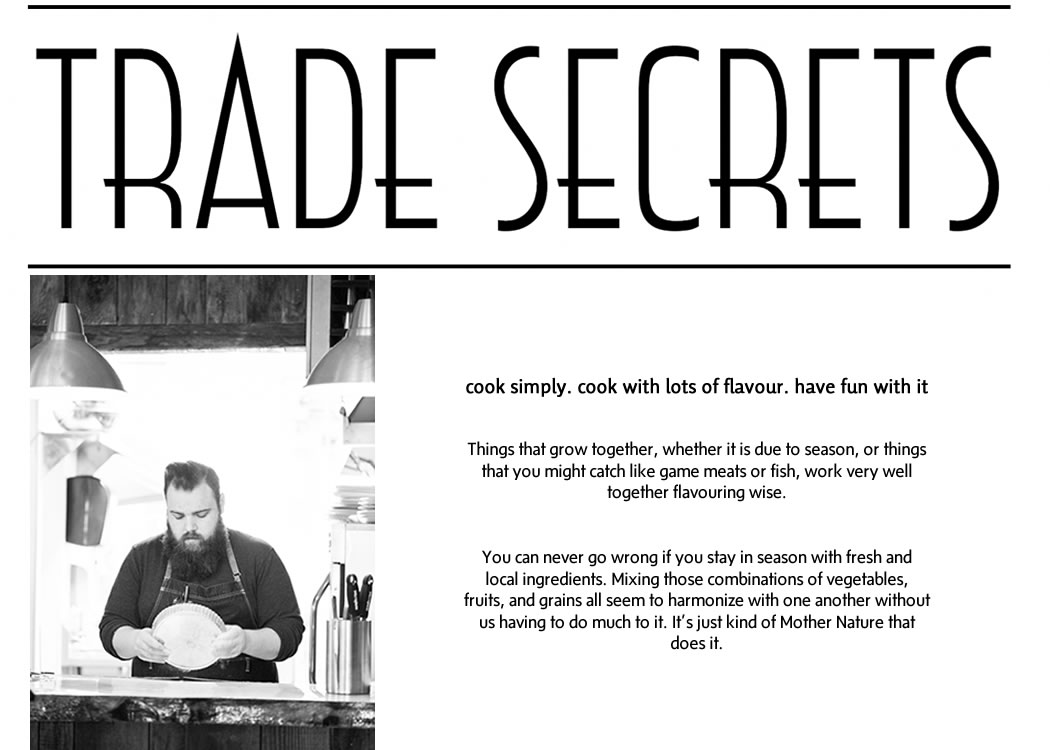 Visit The Mackenzie Room or follow them on social @themackenzieroom