Vision insurance cuts the costs of eye exams and prescription eyewear to the bone to help you save on expensive out-of-pocket costs when unforeseen expenses arise. With a vision insurance plan, you can enjoy low copays, generous allowance and discounts for a comprehensive eye exam, prescription contact lenses, eyeglasses and sunglasses (including lenses and frames), as long as your insurance provider allows it.
Jump to a section:
How does vision insurance work?
A simple vision plan fits into just about any budget. It works much like health insurance in that you pay a premium each month, and the insurance company helps pay all or part of your eye care expenses for that year — the amount varies widely across plans. Most vision plans pay for your choice of frames up to a set amount, and you pay the difference. Check with your plan provider if you're not sure.
For instance, John pays $20 monthly to his vision plan provider for a year (total amount $240). His plan covers an eye exam, prescription frames, lenses and contact lenses. He goes to Clearly for an eye exam ($95 without insurance). Looks at his vision plan brochure and realized he has to pay only $15. John is happy that he gets to save $80 on his eye exam.
He goes home with his new prescription to buy a new pair of glasses with Clearly online. Selects a pair of Ray-Ban frames ($190) and blue light blocking lenses with premium lens coatings ($135) — his plan covers $150 on frames, plus 20% off amount over frame allowance, and 100% coverage on prescription lenses with $25 copay. Total cost without insurance would cost $325, but because of his plan, John pays only $57 and saves $268 for a pair of glasses.
| | | | | |
| --- | --- | --- | --- | --- |
| | Cost | Allowance | Savings ($) | Payment ($) |
| Frame | $190 | $150 and 20% off any balance | $158 | $32 |
| Lens | $135 | 100% coverage with $25 copay | $110 | $25 |
| Total | $325 | – | $268 | $57 |
Keep in mind that John is a fictional character and the insurance benefits are based on real data. As mentioned, your out-of-pocket costs vary depending on your vision insurance plan. Check with your provider for a straight answer. As we do not have direct billing with any insurance plans, you'll have to pay upfront first and then file a claim separately to be reimbursed. See "Vision insurance claims process explained in 3 steps" below to file a claim.
Is vision insurance worth the cost?
Think about how often you need to replace your glasses and contact lenses, and how often you use eye care services. For instance, an eye exam may not justify buying vision insurance. If you want to get a pair of reading glasses and keep them for a few years, you're probably better off paying it yourself.
Looking back at John's case, his annual plan of $240 allows him to pay a total of $72 for an eye exam and a new pair of glasses. Having a vision insurance plan allows John to save a total of $348, which would've otherwise cost a total of $420 without insurance.
Generally, a vision insurance coverage does not cover the cost of treatment for severe medical conditions like glaucoma, cataracts or macular degeneration — your health insurance covers those issues. If your optometrist finds any medical problems during your eye exam, he or she will refer you to a medical eye doctor known as an ophthalmologist.
Fact:
Did you know that you're supposed to have an eye exam every one to two years, which is a recommended frequency guideline by the Canadian Association of Optometrists?
Even if your eyes appear to be doing well, regular eye exams are key to preventive care. Diseases affecting vision, like glaucoma and macular degeneration, would be much more treatable if caught early. An eye exam can also detect other chronic diseases, such as diabetes, high blood pressure, and cancer, which can be fatal if not treated immediately.
See more: Everything you should know about eye exams
Student vision coverage
If you're enrolled in a vision coverage with your college or university, you can claim the benefits that you're eligible for. We have a discount plan with ASEQ so that you can save even more money. Your plan may cover an eye exam, eyeglasses or contacts. Check with your Studentcare Vision Network if you're not sure.
Vision insurance claims process explained in 3 steps
Step 1. Fill out the reimbursement form
Log in to your insurance provider's website to complete the reimbursement form.
Step 2. Attach your itemized receipt or invoice
At Clearly, you can get your itemized bill in both your email and MyAccount after you have received your order.
Did you know that if you lose your receipt you can save and print it at any time from your MyAccount? Be sure you're using the same email that you provided when you made your purchase online.
~ A quick guide to get your receipt from MyAccount is as easy as ABC ~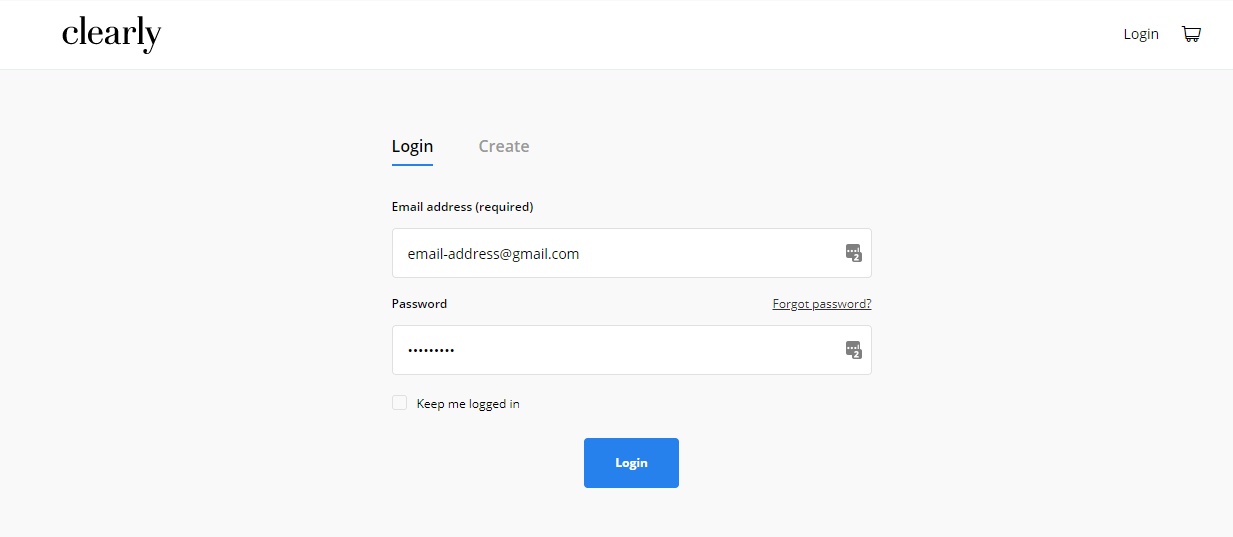 Under 'My Orders'. Select 'Previous', then 'View Details'.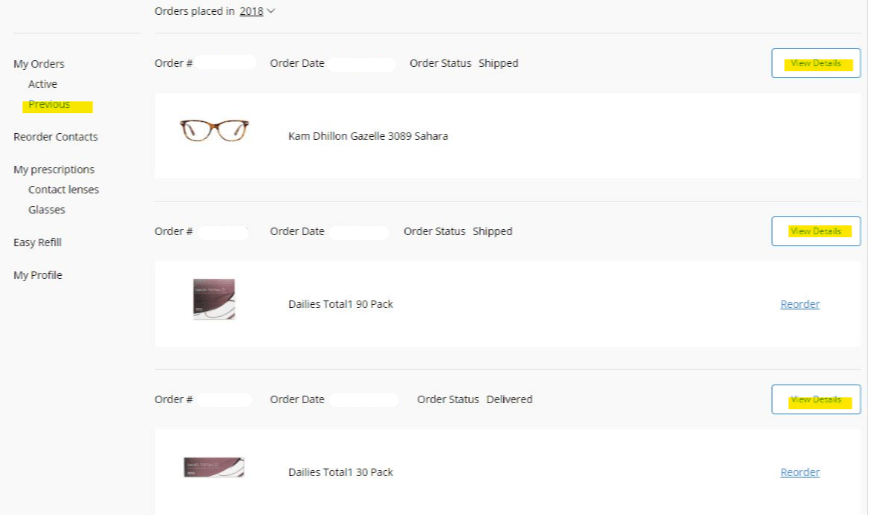 Click 'View Receipt'.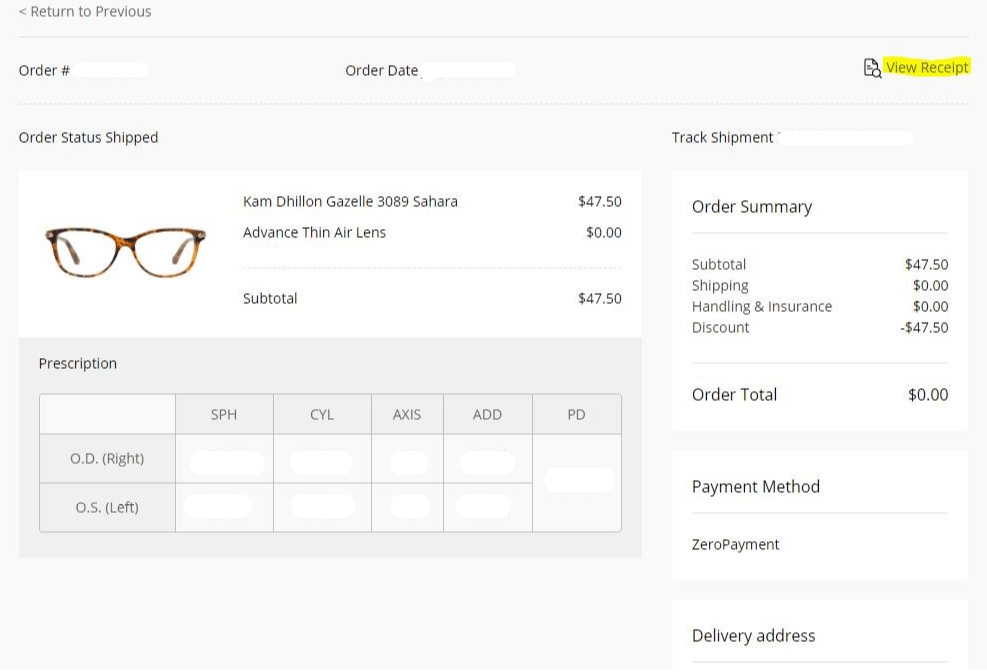 Your receipt should look like this. If you're having trouble locating your receipt, contact our Vision Ambassador team through phone, email or live chat.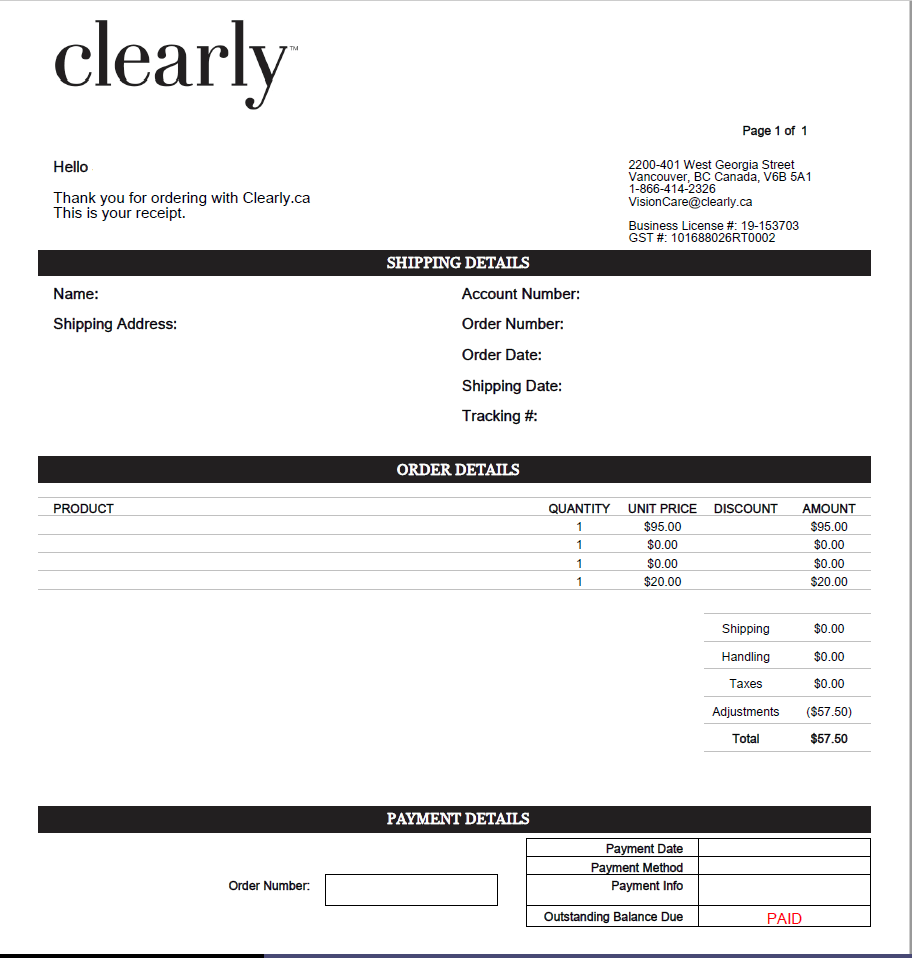 And not this. This is your confirmation order, which will not be accepted by your provider.
Step 3. Submit your receipt and claim form
Once you have the paperwork in order, send it to your insurance company.
Submitting your paperwork vary depending on the services provided by your vision care insurer. If they do not offer online submission, you can submit it via the mail. The address to send the claim form should be on the claim form itself.
Can I use my flexible spending account (FSA) or health savings account (HSA) for eye care-related expenses?
Many companies offer both FSA and HSA plans. You can use your FSA or HSA dollars to buy prescription eyewear and pay for eye care-related expenses — regardless of having vision insurance or not. If you haven't used up your FSA funds, make sure you use them before year end because you can't carry over unused contribution to the next year. So don't wait until the last day of the year to make your purchase. As they say, "use it or lose it" before your benefits expire.
Do HSA funds expire?
HSA in Canada is subject to preferential tax treatment, so put it in layman's terms, that means HSA is a non-taxable benefit. The Canada Revenue Agency (CRA) has set certain guidelines around the structure of HSA funds.
Typically, companies in Canada have three options on how they handle HSA. You may check with your company's policy to be sure.
1. Your company uses the "balance carry-forward" provision. You can roll over funds to a max of one year. This allows a total of two years to spend HSA dollars. If the funds are not used by the end of the second year, the funds are forfeited. Any funds deposited in 2020 can roll over to 2021 but then are lost. You can't roll over funds year over year.
2. Your company uses the "claim carry-forward" provision. You can roll over claims to a max of one year. Instead of carrying forward your HSA dollars, you can carry forward any claims that were incurred the year before and pay with current year dollars. Any claims incurred in 2020 can also be used again funds deposited in 2021. Let's say you have a claim in 2020 for $3,000, but only deposited $2,000 in 2020, and if you deposit funds in 2021 you can use that many to pay for the $3,000 claim incurred in 2020.
3. Your company uses the "use-it-or-lose-it" provision. You can use your HSA dollars in the year that it is allocated for claims incurred in that year. Any unused dollars at the end of the year would be forfeited.
Is HSA taxable in Canada?
The CRA has an approved list of eligible medical expenses that you can claim under HSA on your income tax return. Depending on where you live, there are variations in health plans across the provinces. You may refer to HSA coverage and out-of-pocket expenses by province.
For instance, eye exam coverage is dependent on several factors, such as your province of residence, as well as age and medical necessity. If you reside in Quebec, HSA claims are considered a taxable benefit at the provincial level. The taxable benefit includes the claim amount and administration fee.
Individual employers will have control over the specific annual dollar amount and plan provisions, such as the use-it-or-lose-it or balance carry-forward provision.
What can I buy with my FSA/HSA funds?
According to the Income Tax Act (Canada), you can use your funds to pay for any eligible medical expenses. These medical items, treatments or services "must be prescribed by a medical practitioner (oculist or ophthalmologist) or an optometrist". This means that any prescription eyewear at Clearly — such as progressive glasses, single vision glasses and reading glasses, sunglasses and lens coatings — will be even more affordable.
2 ways to use your FSA/HSA dollars
Do you have an FSA or HSA card? You can use it at checkout on Clearly.
Don't worry if you don't have a card for FSA or HSA. You can file a claim with your receipt to your provider.
Find out how you can get a copy of your receipt under step 2 in the section 'Vision insurance claims process explained in 3 steps'.
Before you shop online…
Make sure that you have an up-to-date prescription before committing to a new pair of glasses or contact lenses, so you can enjoy clear vision. Follow these steps to make your vision insurance, FSA or HSA dollars work for you. Need more help? Chat now, email us or call 1-866-414-2326.