Since the launch of Style by Sarai in 2013, Jason Sarai has been committed to finding tailored solutions for his clients by offering personalized style plans, personal shopping, and closet detoxes. With the launch of his eponymous bespoke suit line, Jason meets with clients to research inspirations, silhouettes, and patterns to build the perfect suit.
---
How did you get started?
---
Style by Sarai was started thanks to my brother who is an optometrist in Chicago. With getting married, having kids, and building his practices I would take him shopping and help him on that end. About a year had passed and he had sent me a text saying 'you need to be this guy' and it was the trailer for "Crazy, Stupid, Love". In a short time I had two additional people close to me saying I should either be Jacob [Ryan Gosling's character], or that someone wanted to dress like him, and it planted the idea to start Style by Sarai. It took me about a year because I was an investment adviser consulting people about their finances and wealth management, and at the same time thinking about consulting them on dressing and fashion.
---
What was the turning point in your career?
---
The defining moment for Style by Sarai in terms of big picture and really thinking blue sky was when I started my bespoke suit line. I was doing editorials and style consulting for professionals and executives when I got the opportunity to make my first exclusive suit lines through Coppley and Bracos + Brand. It was an opportunity to get into design and was something that I had never envisioned when I first started the company. I really did my research, and understood the making and the intricacies of what it took to build a suit. I was introduced to a bespoke tailor that really created the next path from going from made-to-measure to creating a bespoke line. It's been a year of making the Jason Sarai bespoke suit line and opening our offices in Gastown.
---
What is a bespoke suit?
---
Bespoke [allows the client] to choose every component of the suit, and its complete cut is made to their exact measurements. With both made-to-measure and bespoke you have the ability to select any given fabric and components, but with bespoke you have several additional measurements. With our process we take over 35 measurements, and then we start with a blank canvas and cut the fabric for our client with those exact measurements.
---
What acts as your inspiration?
---
Where I find inspiration is through several of my colleagues and professionals in Europe who are paving the way. Designers like Tom Ford are always pushing the boundaries, and taking style and fashion to the next level, and they provide inspiration to the masses. As I've been in the bespoke and suiting game now I know which people I like to follow and are cutting edge in terms of fashion.
---
How do you design a suit?
---
The design process is quite fun. When we work with our client we have a pretty good gage of what they are working towards, and the event that they are attending or the purpose of their suit. From that initial discovery meeting, I'm able to lead them in the direction that they are working towards. Once we've selected the fabric (there are thousands to choose from), we get to the next level of picking the design on the pockets, the lapel, the buttons, the stitching, and then also the lining. There's multiple levels and stages of the design process that the clients get to be a part of.
We've had clients as young as their teens up to late 60's and 70's. We have a whole array of different types of clients, for different types of occasions, and that is what bespoke is really about; we get to design a suit for any and every type of occasion that is out there.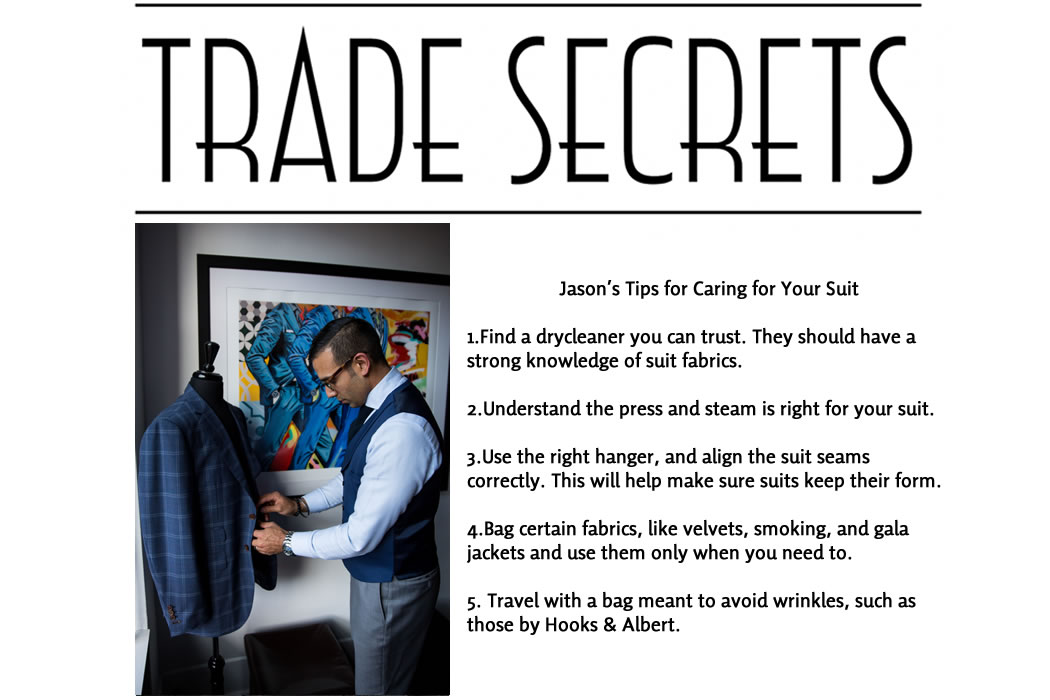 Jason wears Joseph Marc 4144 Green glasses and a Jason Sarai bespoke suit. For more from Jason, visit stylebysarai.com and follow him @stylebysarai.