This post is also available in:

Français (French)
From the earliest design conversations, sophisticated eyewear brands such as Joseph Marc and Kam Dhillon collaborate with Mazzucchelli acetate to develop artisanal frame series that feature layers of depth through the finest materials in optical. This commitment to craftsmanship delivers unmatched quality and timeless style that transform glasses from pure function to coveted pieces.
---
A Family Story
---
Mazzucchelli [was founded in 1849 by] family members who, generation after generation and over the past 160 years, are still engaged in research and innovation – Mazzucchelli 1849
Mazzucchelli is the leading producers of acetate sheets worldwide, due to their commitment to develop the finest materials and patterns. Mazzucchelli acetates are known for their rich lustre, vibrant colour, superior tensile strength, and lightweight feel.
Trained artisans develop colours and patterns through a detailed process that can take up to 60 days to develop, making them a coveted supplier to premier eyewear brands.
---
An Investment in Process
---
The cellulose acetate sheets can be produced in an infinite range of transparent or opaque colours, single-coloured or [kaleidoscopic] – Mazzucchelli 1849
Each sheet is made of cellulose acetate that is a renewable, non-petroleum, plant-based material, which is also lightweight and hypoallergenic. In the hands of Mazzucchelli artisans, pulverized flakes are mixed with solvents and plasticizers to create a material that is filtered and made into a transparent paste.
This is then hand blended with coloured organic powders and acetone that is fed into rollers to evenly spread the colour. Different colors are then layered and the rolling process continues. This results in multi-level patterns that are placed in a mold to create chips. These chips will be pressed into a block to be cut into their patterned sheets of acetate to be polished, shaved and cut into frames.
---
Developing a Collection
---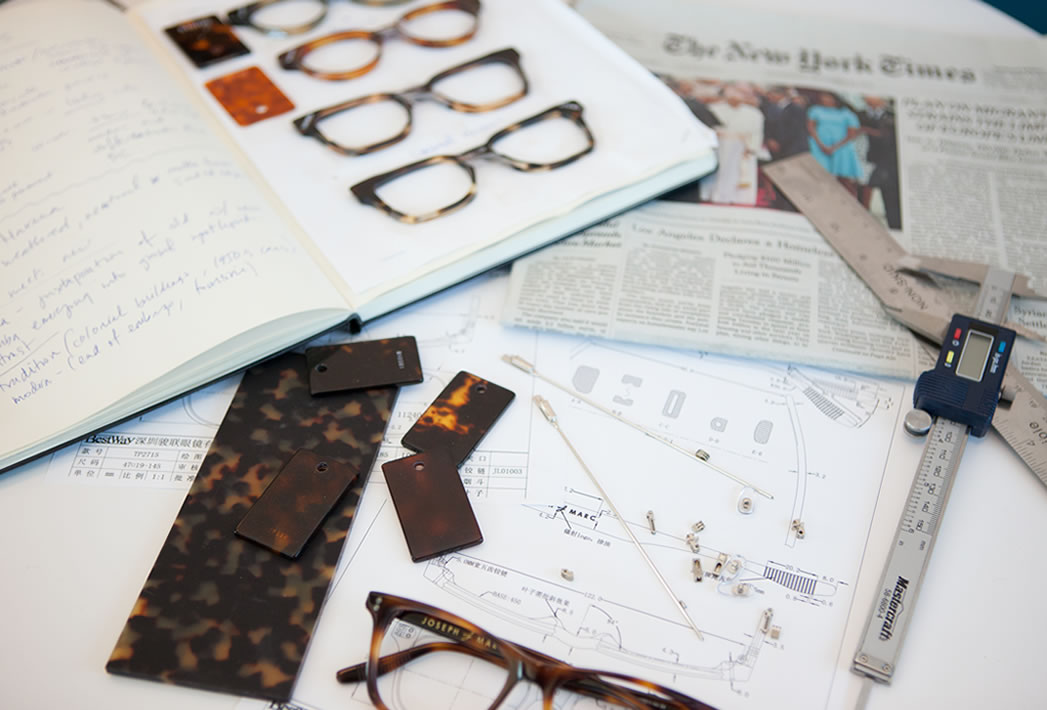 From the first inspiration, we work with Mazzucchelli's product development teams in Italy and New York to select the right materials and colours for the right frames -Marie Stipancik, Eyewear Designer
In a collaboration that can take up to a year, design is transformed into technical drawings, samples are shipped across the globe and, finally, the completed frames are ready to join their collection. Whether inspired by stylish muses, international locales, or traditional artisanship, concepts are transformed into collectible optical styles.
---
Frames Featuring Mazzucchelli Acetates
---