What's old is new again. Fashion trends tend to come full circle, and round eyeglasses frames are making a major comeback.
This stylish frame shape lends a relaxed, retro vibe and would look great as either an everyday pair of eyeglasses or a pair of sunglasses for the weekend. Reminiscent of the styles worn by John Lennon and Andy Warhol, round glasses will leave you looking effortlessly cool.
What are the different styles of round glasses?
Round eyeglasses boast a curved, circular shaped lens that is generally equal in width and height. On Clearly, you'll find a wide variety of round frames from a diverse range of exclusive and designer brands, including Joseph Marc, Derek Cardigan and Ray-Ban.
If you're looking for some subtle vintage flair, opt for some shimmering metal round glasses. If you're looking for something that's bold and quirky, you'll love our polished acetate options.
Featured, left to right: Joseph Marc 4128 in Havana, Lexington 4183 Chicory in Brown
Will round frames suit my face shape?
Due to their curved nature, round glasses will look best on faces with sharp, angular features. The circular shape of round frames will help balance any sharp angles and prominent jawlines, making this style ideal for square, triangle and heart face shapes.
This doesn't mean faces with softer facial features can't wear round frames, though. If you have a round face and like to make a stark statement with your fashion choices, you can dare to be bold with a pair of edgy round glasses as well.
You can learn more about your face shape and which glasses styles will look best on you by having a look at our face shape guide for glasses.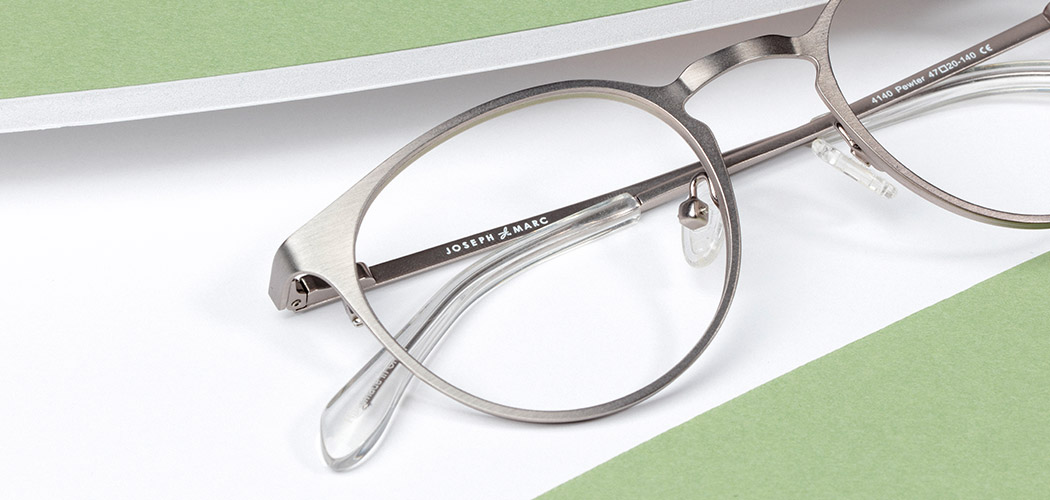 Featured: Joseph Marc 4140 Fisher in Pewter
Ready to find your perfect pair?
Geek chic is definitely the new cool. We offer an extensive selection of glasses frames online, so feel free to channel your inner free spirit with a pair of round glasses today.
While shopping, we recommend using our MyFit tool to find a pair of round frames that will fit you perfectly. To learn more about our MyFit tool and how to find your frame measurements, visit our ultimate guide to finding the perfect pair of glasses.
Let's get shopping
Header featured frame: Lexington 4183 Chicory in Brown