Have you seen our new look?
After 20+ years of bringing you 20/20 vision, we are thrilled to announce that we've upgraded our website! Our team has been working hard to make improvements and create a fresh, modern look, and it is now live and located at this new address: https://www.clearly.ca/en-ca.
It's all part of Our Mission to eliminate poor vision and help you access the eyewear you need, easily and affordably. This update brings you an even better, faster, and easier way to get the glasses, contact lenses, and eye care you need to live to your full potential.
Top 3 reasons why we gave our website an upgrade:
Blink-of-an-eye-fast speed: We've optimized our website to load faster than ever before, so you can get to what you need quickly and easily.
Streamlined navigation: Easier to navigate and find the products and information you need. Our improved navigation menu makes it simple to access everything our site has to offer.
Enhanced security and user-friendliness: We've taken steps to improve the security of our site, and we've made it more user-friendly to ensure a smooth and secure online shopping experience for you.
Highlights of the new look
We know that adjusting to a new design may take some time. Here are some tutorials and highlights on the exciting changes and features that you can look forward to.
Lens selection for glasses and sunglasses
Our new lens selection page lets you learn more about the different lens types available and check your lens selections, so you can easily make an informed choice and shop with confidence – every step of the way. Here's what's new:
Simply click 'Learn more' next to each lens type that interests you for a detailed overview of its specific benefits and features.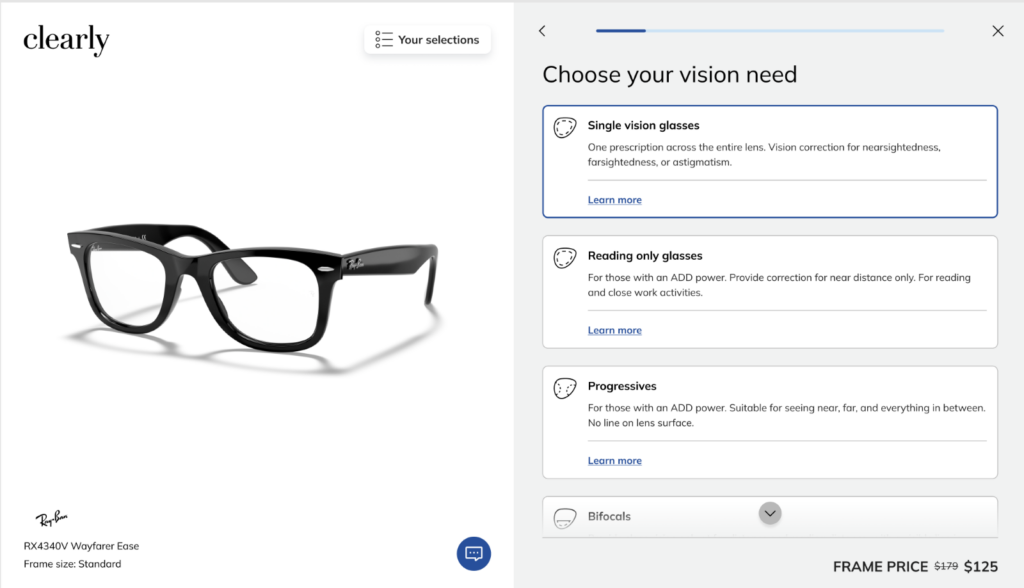 The 'Check your selections' step provides a summary of the lens type that you have chosen and allows you to edit your choices before adding them to your bag.
Checkout and online payments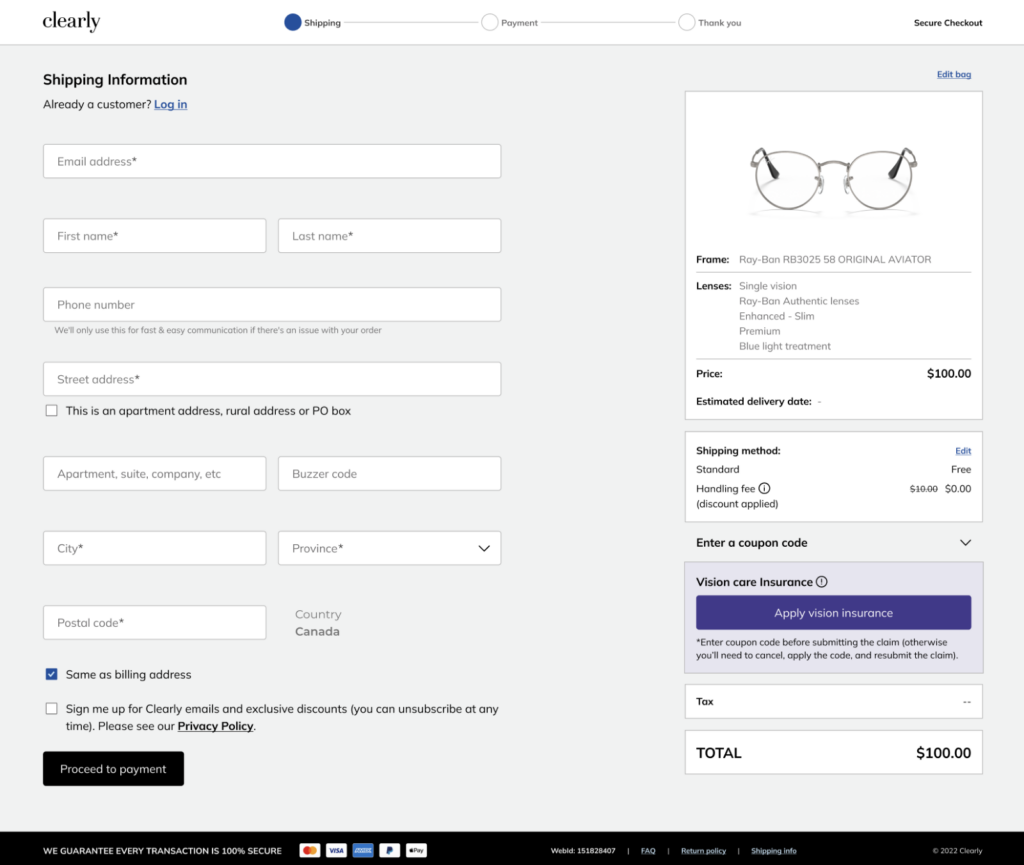 Our new shipping and payment pages are streamlined to make your checkout experience even smoother.
If you have a Clearly account, log in to access your saved prescriptions, payment and shipping information, so you can check out swiftly, safely, and simply.
You can also claim your vision benefits here with our direct billing feature.
Clearly account
We're excited to introduce a new look for your Clearly account, focused on enhancing your shopping experience from start to finish. Create an account in minutes today. Here's what's new:
With effortless self-service returns, you can start your return directly in your account.
Go to your order history
Select the item you'd like to return
Create a return label
Virtual Mirror (previously Virtual Try On)
Try on your favourite frames from the comfort of your own home, or on the go using Virtual Mirror.
Once you've chosen a frame you're interested in, tap 'Try them on' to open Virtual Mirror
Make sure to allow camera access and point your camera at your face
An augmented reality (AR) version of the frame will appear, and you can even customize your frame and lens colour, and take a photo
Lens guide for glasses and sunglasses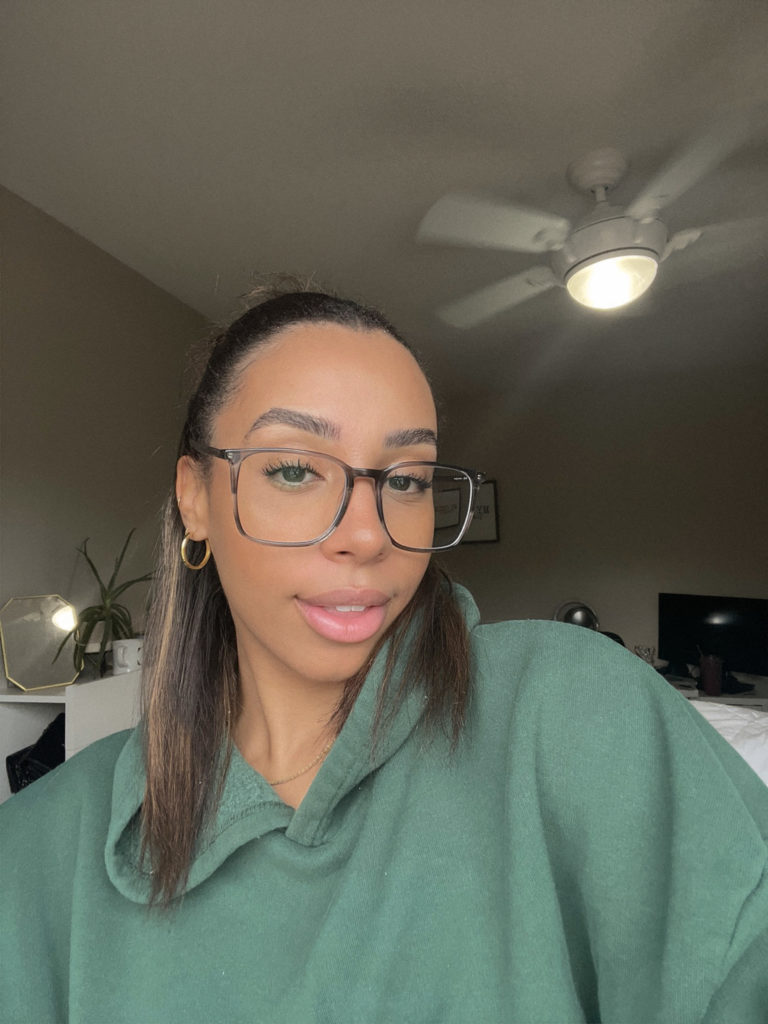 Our redesigned lens guide lets you find lens info for glasses and sunglasses effortlessly and takes your eyewear game to the next level. Everything you want to know about the different lens types is a whole lot easier to find when you shop.
Contact lens refill temporarily unavailable
You can still enjoy amazing prices and fast delivery on your go-to contact lenses. Please note our refill shortcut is temporarily unavailable, which means you'll need to enter your prescription and complete your order manually.
If you're used to clicking 'refill' and you need a reminder of your usual order, just head to your account and check your order history. You'll find the details of your past orders there.
Shop glasses, sunglasses, and contacts online
Choosing the right eyewear can be a huge deal since it's key for clear vision, maintaining your eye health, and experiencing ultimate comfort. That's why we've made it simpler to shop for glasses, sunglasses, and contact lenses at our online store.
Loving the new look? Follow us on social to make it official.
Have any questions? Contact us by email, live chat or phone.