At Clearly, we believe everyone deserves to see. 2.7 billion people around the world don't have access to the vision care they need – including 2.2 million Canadians.
As part of Our Mission to eliminate poor vision, we're committed to making eyewear affordable, vision care accessible, and raising awareness about the importance of eye health.
That's a lot of big words – and we have a lot of big plans to accomplish these goals. Clearly for Community is an integral part of making our vision come to life and removing barriers for people in need.
Learn about our most recent events.
What is Clearly for Community?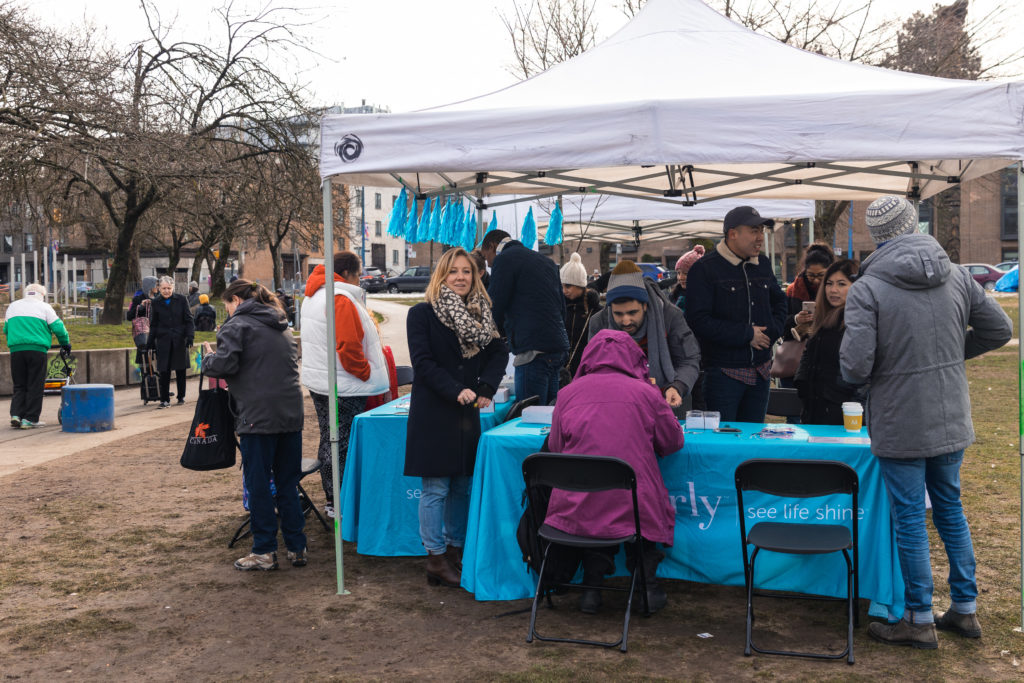 First created in March 2011 (under the name Change the View), Clearly for Community is an initiative that's run by the team at Clearly. It's all about looking for ways to bring vision care to the communities that surround us.
From supporting local shelters to establishing partnerships with major Canadian organizations, our goal is to do what we can to help people access eyewear and eye care they need. Some of the things you'll find us doing include:
Participating in local community events to provide free prescription glasses and eye health screenings
Visiting local centres to raise awareness about eye care services can be accessed
In-kind donations of prescription glasses, sunglasses, and ready-made readers
Partnering with organizations across Canada to help them bring essential eyewear to the groups they serve
Why we care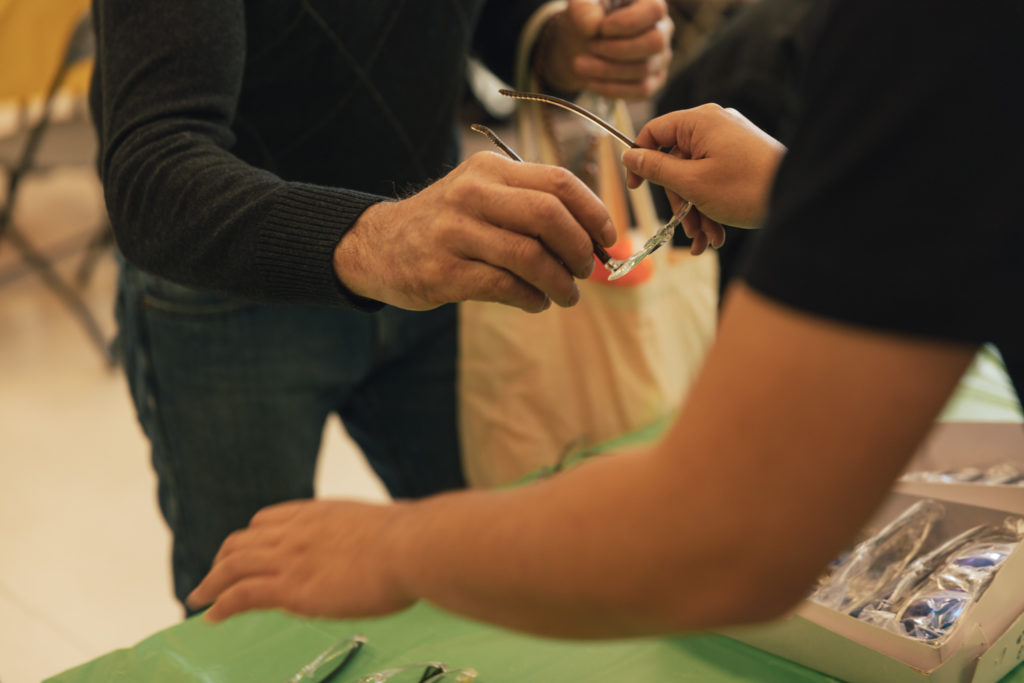 As eyewear providers, we know that seeing clearly enables people to thrive in the world around them. From being able to work, study, and see your loved ones, to reading, art, and enjoying the amazing things around you, vision connects us to the important things in our lives.
We're always looking for ways to make eyewear and eye care more accessible. Offering affordable, quality eyewear is part of this vision, but we wanted to find a way to reach out further and connect with people who need more support. We decided to create Clearly for Community to get involved with causes where we can make an impact.
Clearly for Community over the years
Since we've created Clearly for Community, we've reached countless families across Canada, attended dozens of local and global outreach events, and made thousands of donations to local organizations.
2021 Clearly for Community roundup
Breakfast Club of Canada: $10,000 donated towards the Back to School campaign
Tim Hortons Foundation: 500+ pairs of glasses donated to kids and teenagers
Canadian Vision Care: 2,600 pairs of glasses donated to people in the Philippines, Malawi, Guyana, and Jamaica
Friends of Ruby: 50 pairs of glasses donated to LGBTQ2SAI+ youth
Toronto Foundation for Student Success: 900+ pairs of glasses donated to students
Frame recycling: Over 550 pairs of old glasses collected for recycling, part in partnership with The Lion's Club
Outreach events: Over 3,050 pairs donated to community centres across BC, including The Gathering Place, the Downtown East Side Clinic, The Salvation Army, and the West End Seniors Centre
Learn more about Our Mission and recent events and initiatives.
Get to know our partnerships
We've been lucky enough to strengthen several partnerships over the years, which have turned into longstanding relationships with amazing Canadian organizations.
Tim Horton's Foundation Camps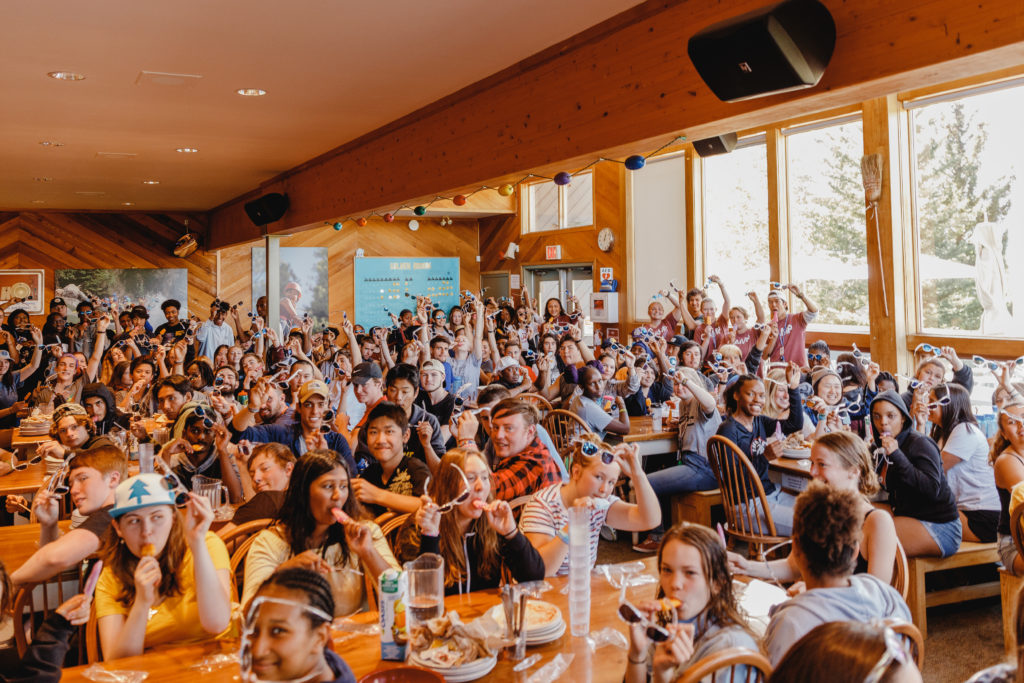 We hold this partnership very close to our heart. Every summer, we provide prescription glasses to kids who attend the Tim Horton's camps, during which they get to explore activities they love and develop leadership skills.
Since 2018, we've provided over 1,100 pairs of glasses to kids attending camps. That's thousands of families we helped:
"Thank you for helping me with my daughter's glasses. I honestly can't believe how fortunate we are to receive this generous offer. I was panicking on how I would pay for new glasses since April."
"I would like to extend my profound gratitude to Change the View and the Tim Hortons Foundation for this opportunity. Zachary was in need of new glasses and I was financially unable to provide at this time, we are very appreciative."
Toronto Foundation for Student Success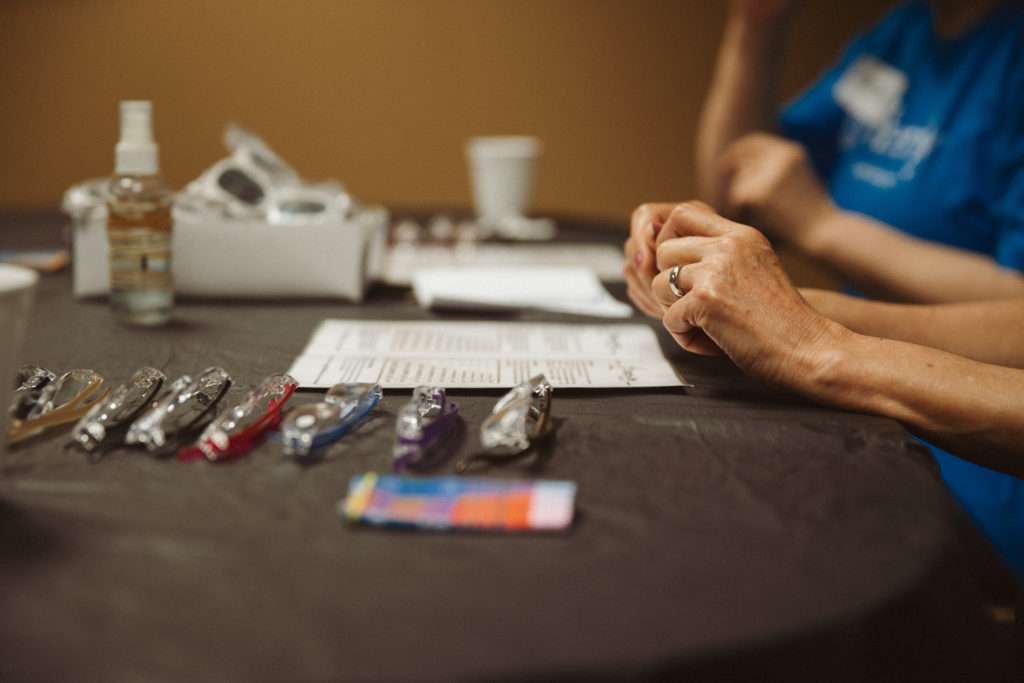 The Toronto Foundation for Student Success centers its efforts on helping students from underserved communities thrive through different programs.
With the support of local eye care professionals, TFSS offers vision screenings for children. Clearly takes care of the glasses. Since 2018, we've provided over 2,000 pairs of glasses to students who needed prescription eyewear.
Outreach events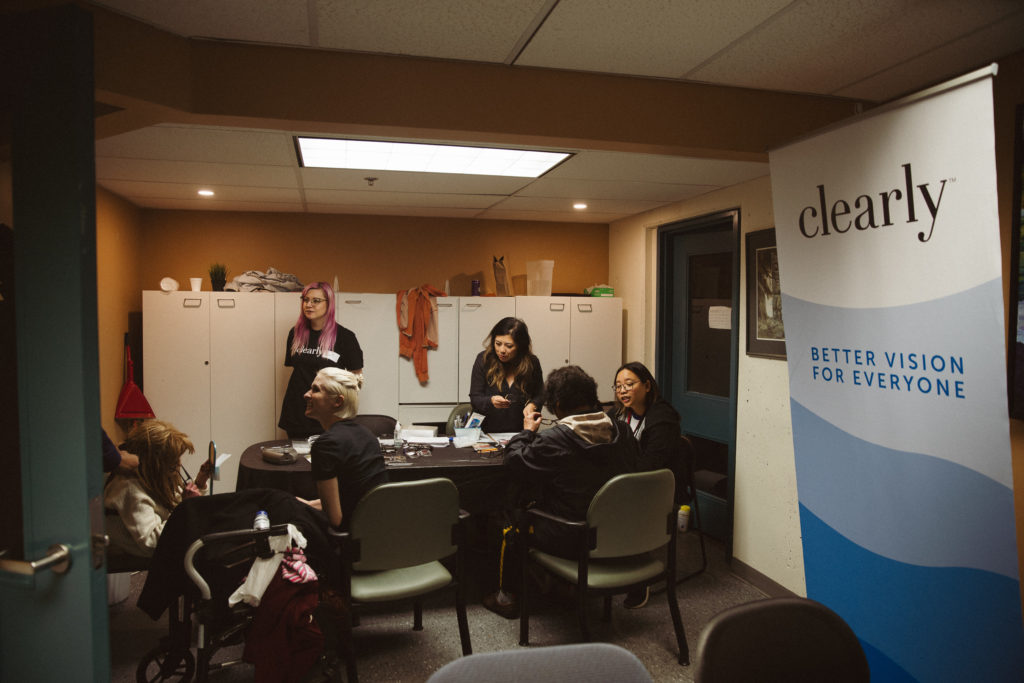 Every year, we attend community events around Vancouver. We bring ready-made readers, sunglasses, smiles, and place orders for prescription glasses with patrons.
Those events are an opportunity for us to see our impact firsthand – it's just us and the people we help. Throughout out the years, we've attended multiple recurring outreach events, including:
Project Connect, Victoria, BC
Community Connect, Vancouver, BC
Lotus Light Charity Society's Annual Summer Event, Vancouver, BC
HomeGorund Festival, Vancouver, BC
Mira H, our Director of Optical Lab of Operations, has been working for Clearly for 10 years and attended countless events: "These events stand out because you are seeing the smiles on people's faces as they get their new pair of glasses. Seeing the direct impact is very rewarding. Regardless of the size of the event or the size of the cause each experience has always been rewarding and provided a sense of community and togetherness."
John D, our more recently hired Transportation Administrator, echoes Mira's thoughts: "It was interesting for me to see how many people we impacted, how emotional and eager people are to get prescribed glasses and the happiness they experienced when their orders were put through."
A decade (and then some) of CFC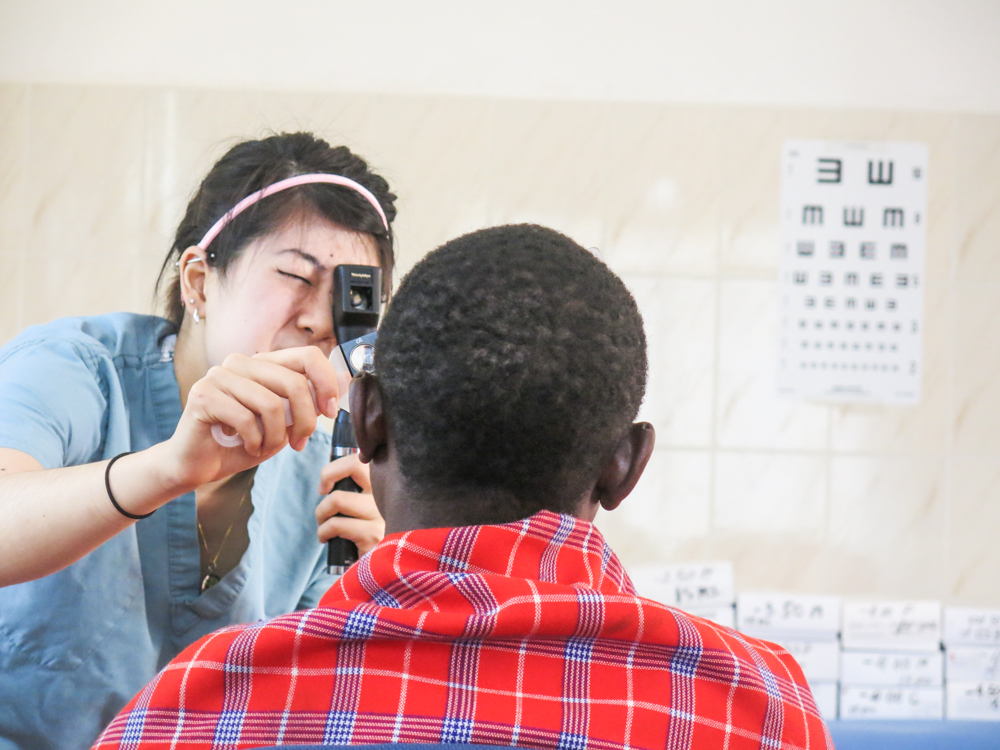 Clearly for Community has officially been around for over 10 years. While glasses styles might have come and gone (and come back again), having Clearly for Community at the heart of Clearly has allowed us to stay connected to our community – and each other.
We've overcome obstacles and navigated challenges together, always maintaining focus on bringing people essential glasses and vision care.
Clearly for Community through the pandemic
The pandemic has of course presented challenges to our continuous efforts. Like everyone else, our partners had to pivot quickly to maintain their much-needed support. We pivoted with them to provide adequate resources and limit the impact of the pandemic on underserved communities.
So, we came up with new systems and processes. As the world moved towards virtual solutions, we put our knowledge and expertise acquired as an online company towards very good use, and we innovated. We provided adequate training material for our partners to maintain their support remotely and changed our own processes to accommodate virtual programs.
We are happy to report that we were able to:
Maintain our partnerships with Tim Horton's Foundation Camps and Big Sisters Vancouver
Donate readers and sunglasses to multiple organizations
Equip people without housing, or at risk of homelessness, with prescription glasses
Free the Children – Kenya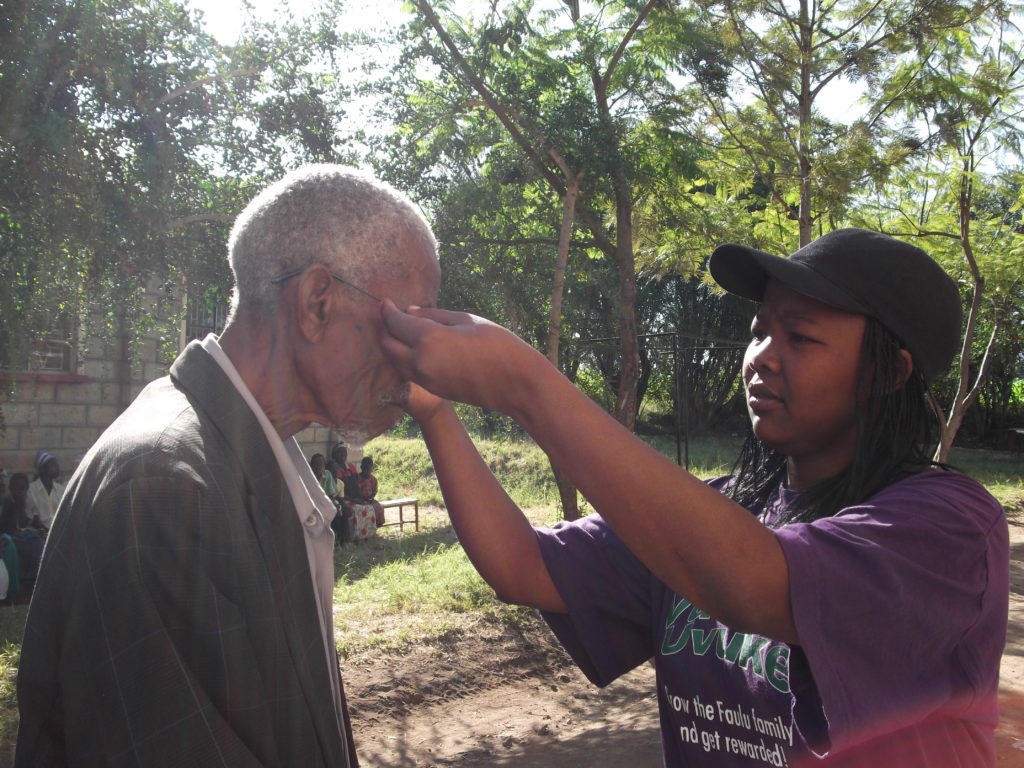 In 2015, nine Clearly employees went to Kenya in association with Free the Children. Our team set up camp in different cities throughout their trip in the rural Masai Mara region of Kenya.
Through vision screenings, prescription glasses and sunglasses donations, distribution of vitamin E tablets, and support of optical education, we were able to thousands of children, women, and men.
Simon F, Productions Manager in our lab, was part of that team: "It was truly an amazing and eye-opening experience and a highly rewarding initiative, as we helped 1000 individuals see clearly and help provide a better quality of life. Knowing you made a difference and you work for a company that cares; is one of the most satisfying feelings I have ever felt."
An employee-led initiative
Team Clearly is the heart of Clearly for Community. Our employees are the ones dedicating valuable time to building programs, developing relationships, and organizing events.
It's hard to put into words how much we value the humans behind Clearly for Community. Whether it's coordinating with partners, ensuring we have the products needed to support the community, or assisting on the frontline, our team shows up every single time.
Thank you
None of what is outlined in this post would be possible without the incredible people involved.
So, we say thank you to our partners for trusting us and bringing us into their mission.
Thank you to the Clearly teams – those on the frontline of Clearly for Community and those working behind the scenes.
Thank you to the community for letting us in and sharing their stories with us.
And the biggest thank you goes to you, our customers. You are the reason we have been able to do this for so many years and help so many people get the vision care they need.
Thank you for joining Our Mission and sticking with us for 20 years. Here's to many more!