This post is also available in:

Français (French)
Want to bring more spark into your eyes? Wearing coloured contact lenses is like trying a new hairstyle, it can totally change your look. Though unlike hair, you can remove them whenever you want…
Coloured lenses can be either a way to switch up your usual eye colour or they can be your signature statement. You don't need to wear a lot of flashy jewelry or makeup if you turn your eyes into your hallmark accessory!
Willing to try but haven't made up your mind yet? Let us clarify the subject for you! We've answered some of the most frequently asked questions about coloured contact lenses.
Are coloured contacts safe?
Your eyes' health and safety are important. Coloured contact lenses are medical devices. For this reason, a contact lens fitting is recommended by eye care professionals to help you find an option that suits your eyes and preserves your eye health—regardless of whether you're using your contacts for correction or only cosmetic appeal, a fitting is necessary.
Like regular contacts, you need to keep safe habits in order to protect your eyes. As long as you maintain proper lens care and follow the instructions provided by your eye care professional, it is safe to wear coloured contacts. Consult your eye care professional to find out if coloured contacts are right for you.
If you're not familiar with wearing contacts, make sure to learn how to put contacts in properly. Also note that in general, coloured contact lenses are made of materials that don't allow as much oxygen to the cornea. For this reason, it is important to select a colour contact lens that suits your wearing schedule.
Some coloured contacts such as Air Optix Colors, however, offer a far superior oxygen penetration than most customers brands. Discuss with your eye doctor to decide which brand will guarantee maximum comfort and eye safety!
Do I need a prescription to wear coloured contact lenses?

A prescription to wear coloured contacts is suggested by eye care professionals. It's important to remember that even if you have perfect vision and just want to add a little splash of colour to your eyes – it's still a medical device. And it's still going right on top of your cornea, which needs oxygen.
When you place a contact lens on your cornea, its oxygen supply is decreased. A contact lens prescription does not just denote the corrective power in the lens, it specifies the correct size of the contact lens required for your eye, brand and material of the lens.
While many people think of their 'prescription' as the POWER of their lenses and that's for the most part true for glasses, your prescription for contact lenses also indicates that your contacts fit well and won't put your eyes at risk.
You can easily buy coloured contacts online based on your prescription. And if you have received a prescription for a brand of coloured lenses, you can purchase any of the colours available and know for sure that the lenses will be a good fit. Your eye doctor takes care of the brand and you take care of the colour – feel free to experiment!
How do coloured contact lenses work?
Coloured contact lenses are designed with a clear area in the middle that lines up perfectly with your pupil. This is what allows light to travel through and let you see.
A fitting for a coloured contact lens will make sure your pupil is centered properly with that hole in the lens. If it's not, your vision can be affected, especially at night when your pupil gets bigger and may extend into the coloured area of the lens.
What are the different types of coloured contacts?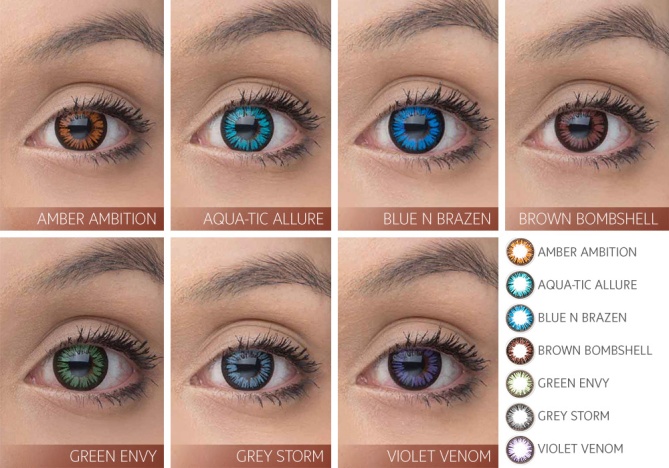 First of all, according to your vision requirements, you could choose between:
i. Non-corrective if you don't require any vision correction and you want to wear contacts of colours for aesthetic purposes only.
ii. Prescription coloured contacts if you need vision correction and want to try new eye tints!
Then, you have a choice between different categories of colours, tints, and features:
i. Enhancement tints: Contacts that enhance your natural eye colour for a more subtle change. For natural look contacts, take a look at Air Optix Colors, Dailies Colors, FreshLook Colorblends or Acuvue Define Vivid.
ii. Vivid tints: brighter colours that will attract all eyes on you! Available in a large range of colours. Some examples: FreshLook Colors, Splash of Color 2, or Air Optix Colors (available in both subtle and vibrant lines within the colour range).
iii. "Circle" lenses (also called "doll's eye" or "Limbal rings" lenses): New varieties of coloured lenses meant to make your eyes look bigger. They have a dark coloured ring around the outer edge of the lens. You can find them in Acuvue Define Accent Style, Natural Shine or Vivid Style, and Splash Illusion Brown or Black.
Coloured lenses for special occasions
Costume or Halloween lenses are special contact lenses featuring patterns, wild colours or even coming completely black! They are almost never prescribed by eye care professionals as many of the materials used to make them are very outdated. Wearing cheap Halloween lenses is therefore not recommended as it could cause eye infection.
Special Effects lenses are large, custom made lenses used for television and film productions. Those custom fitted lenses can only be worn for short periods of time and require the supervision of a licensed eye care professional for use.
Which colour should I choose?
Finding a colour you like on your eyes that can actually be seen and admired is important. Having a fitting for coloured contacts with your eye care professional usually includes the opportunity to trial different colours of lenses to find the one that looks best on you. Many different tints are available for coloured lenses:
Enhancement tints are usually best with lighter natural eye colours and feature areas in the lens that let your natural colour blend in with a dash of something else. A blue colour blend will not be as noticeable on a dark brown iris, whereas someone with green eyes could put that blue lens on and you could tell the difference from ten feet away.
In general, the darker your eyes are, the darker and/or more opaque a coloured lens you'll want to select. A contact lens made for lighter eye colours (blue or green) isn't going to show up as much on a darker eye.
They cover your natural eye colour completely and can work for light or dark natural eyes, depending on individual eye types. If you want to try opaque coloured contacts, experience brown contacts and their 3-in-1 blended colours for an electric glaze.
Coloured contacts will expand your style exploration. Once you've found colours that suit you, have fun adjusting your outfit, makeup, and jewelry! Your perfect match will combine optimal lens comfort as well as a trendy style that will make you feel beautiful and different!
Remember that if you intend to wear coloured contact lenses on a daily basis, having your eyes examined regularly remains essential to ensure that the eyes remain healthy.
Where to buy coloured contact lenses?
At Clearly, our selection of coloured contact lenses brands are guaranteed high-quality and offer optimal comfort and vision. But above all, a large selection of colours and contact types for all styles and preferences! And since we care about your eyes' safety, they can only be delivered with a doctor's prescription.
Shop coloured contacts online with Clearly and enjoy a large choice of coloured contact lenses at affordable prices!
P.S. Keep an eye out for the latest coupon codes to make your deal even sweeter.