This post is also available in:

Français (French)
When we say "designer sunglasses" what instantly comes to your mind?
We bet it's "Ray-Ban."
From Old Hollywood legends to indie rockers and street-style stars, it seems like pretty much everyone has a pair of Ray-Bans. No surprise, since the brand has been a mainstay in the eyewear world since the 1930s.
Timeless, classy, and irresistibly cool, there's a pair of Ray-Ban glasses or sunglasses that are guaranteed to speak to you, whether you're aligned with the cult underground or fashion's most elite.
So – why is Ray-Ban the first sunglasses brand that pops into people's minds?
Is it the remarkable design and performance? The pop culture hype? The confidence you feel when you slip into a pair?
Spoiler alert: it's all of these things. Let's get to know Ray-Ban.
What does Ray-Ban mean?
It's called "Ray-Ban" because it's designed to ban the sun's rays. Get it?
Originally, Ray-Ban was a sunglasses brand. "Banning rays" meant blocking the sun's rays and limiting the harmful exposure of both UV and infra-red rays to help protect the eyes and the surrounding skin in your eye area.
A brief history of the brand
The story of Ray-Ban begins in 1936 in Rochester, New York, where this brand of sunglasses was created for military pilots to protect their eyes from sunlight during a flight.
Back in 1929, US Army Air Corps Colonel John MacCready wanted aviation sunglasses that were capable of minimizing distraction at high altitude for his fellow pilots caused by sun glare, fog, and UV rays.
Over the next seven years, MacCready worked with Bausch & Lomb, a medical instrument manufacturer in New York, to create Ray-Ban Aviator sunglasses.
In 1999, Ray-Ban was bought by the Luxottica Group, an Italian eyewear manufacturing company, based in Milan, Italy.
Why is Ray-Ban so popular
Ray-Ban's popularity in the military evolved into a fashion trend in the 1940s. Many people wanted to emulate the pilots' style, including their sunglasses.
So, Ray-Ban had a calling to go to Hollywood.
1950-1960s
Between the 50s and 60s, Ray-Ban made a splash in Hollywood with the Wayfarer. Simple, slightly oversized, with a statement silhouette, it became the perfect accessory for cool characters (both fictional and real):
James Dean in Rebel Without a Cause
Audrey Hepburn in Breakfast at Tiffany's
Marilyn Monroe
John F. Kennedy
Muhammad Ali
1970s
During the 1970s, Ray-Ban continued to create stylish sunglasses designs that emulated the groovy, oversized vibe of the decade.
The versatility of styles across gender and age helped them gain popularity with outdoor and sports enthusiasts.
1980-1990s
Between the 80s and 90s, Ray-Ban seemed to be the unofficial uniform of the stars. Their eyewear can be seen in movie after movie, and was regularly worn by musicians and actors off stage and screen as well.
Can you imagine any of these films without Ray-Ban sunglasses? We can't!
Popular Ray-Ban styles
Ray-Ban's not just for the Hollywood elite. The brand offers a wide variety of glasses and sunglasses styles for every personal taste, prescription, and face shape.
Can't decide? Find a frame style that looks best for your face shape with our face shape guide.
Here, we've curated the popular Ray-Ban styles below. You can find all of them on our site, ready to be customized just the way you like, with or without prescription lenses and sun tints.
P.S. Keep an eye out for the latest coupon codes to make your deal even sweeter.
The Aviator, as seen on Tom Cruise in Top Gun, features a slim metal frame design that's lightweight, sturdy, and easy to wear. Stylish and timeless, this frame will complement any outfit, from casual to dressy.
The Wayfarer, as seen on Leonardo DiCaprio in Wolf of Wall Street, is versatile and effortless to wear on any face shape. This distinctive browline frame features a high-grade acetate that's designed for everyday wear.
The Clubmaster, as seen on Denzel Washington in Malcolm X, brings the mid-century fashion back in style. Semi-rimless by design, this frame features a bold browline that looks class with any outfits.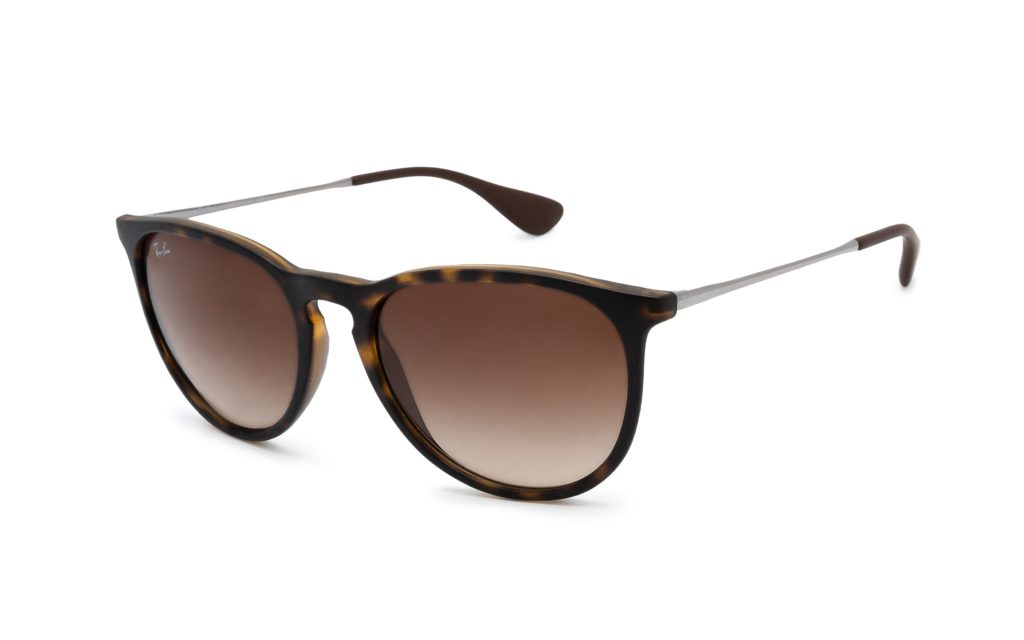 The Erika, as seen on Anna Kendrick and Jennifer Aniston, features an oversized round acetate frame with metal temples and a keyhole bridge that will make you look sophisticated in any setting.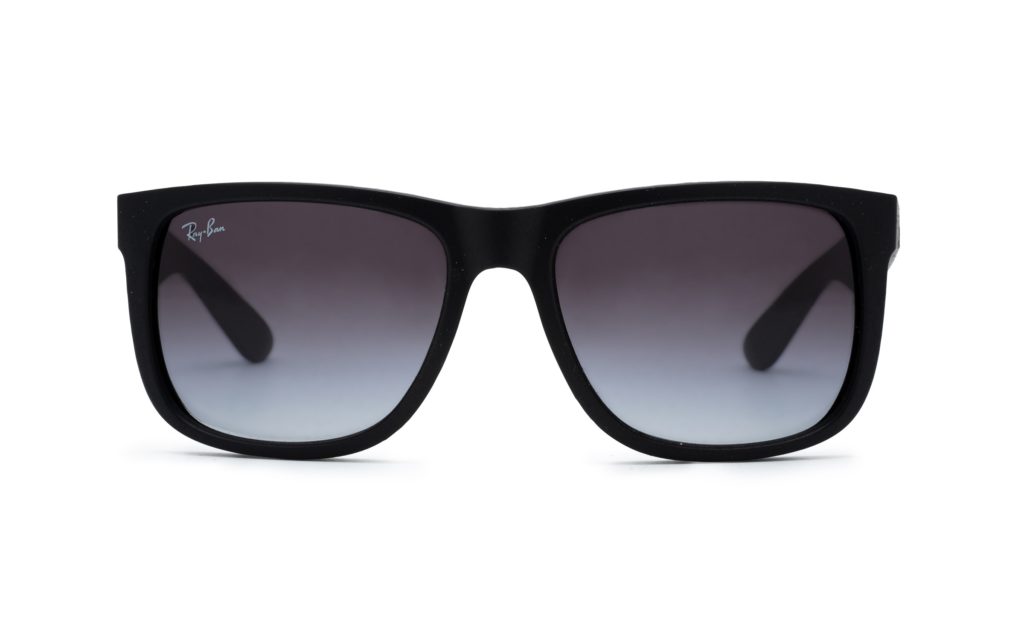 The Justin, as seen on Taylor Kitsch in Only the Brave, features a Wayfarer-inspired design that'll flatter any face. Acetate by design, this frame offers a nonchalant vibe to complement your everyday styling.
How to tell if your Ray-Bans are authentic or not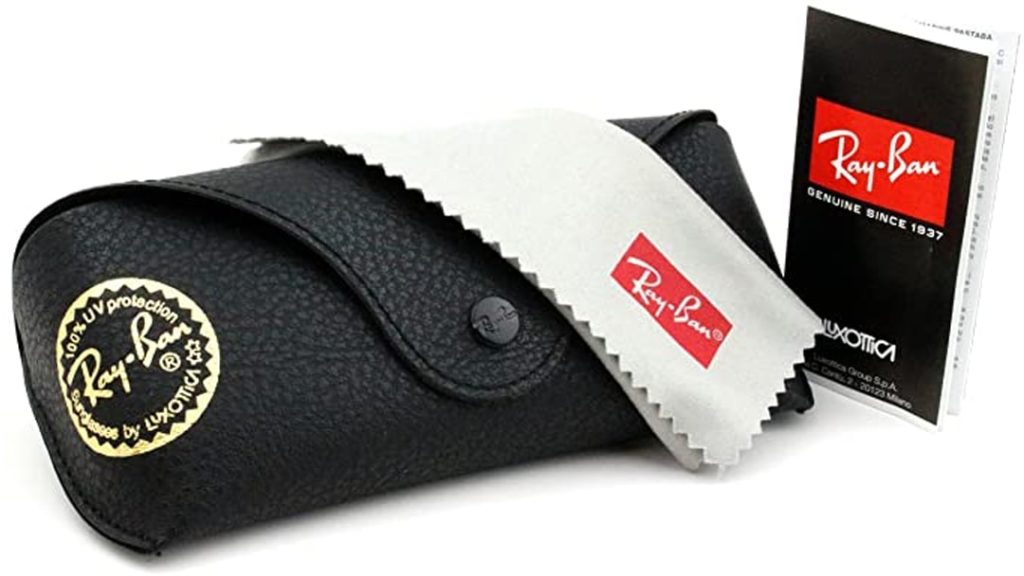 All this demand and exclusivity has a bit of a drawback – Ray-Ban is one of the most counterfeited designer brands around.
So, how can you tell whether the Ray-Bans in front of you are authentic or a replica?
The best way to avoid a Ray-Ban scam is to shop at a reputable place (yes, like Clearly).
We've put together some tips on what to look out for:
You should see a "certified reseller" badge on a website or in-store
You'll get a Ray-Ban case and cleaning cloth with the brand seal and logo
The frames should feel solid and reliable
Pay attention to the metal hinges – Ray-Bans are built to a high-quality standard, so you should be able to fold and unfold the temples with ease
The brand logo should be featured cleanly on the temple and the lens (unless they're customized prescription lenses, in which case they likely won't have a logo)
Ray-Bans are reasonably priced, so if a deal seems too good to be true, it probably is
If you want a pair of prescription Ray-Ban sunglasses from Clearly, we'll customize your frames with our high-quality prescription lenses. But remember: you won't see the brand logo on your lenses.
How to adjust Ray-Bans?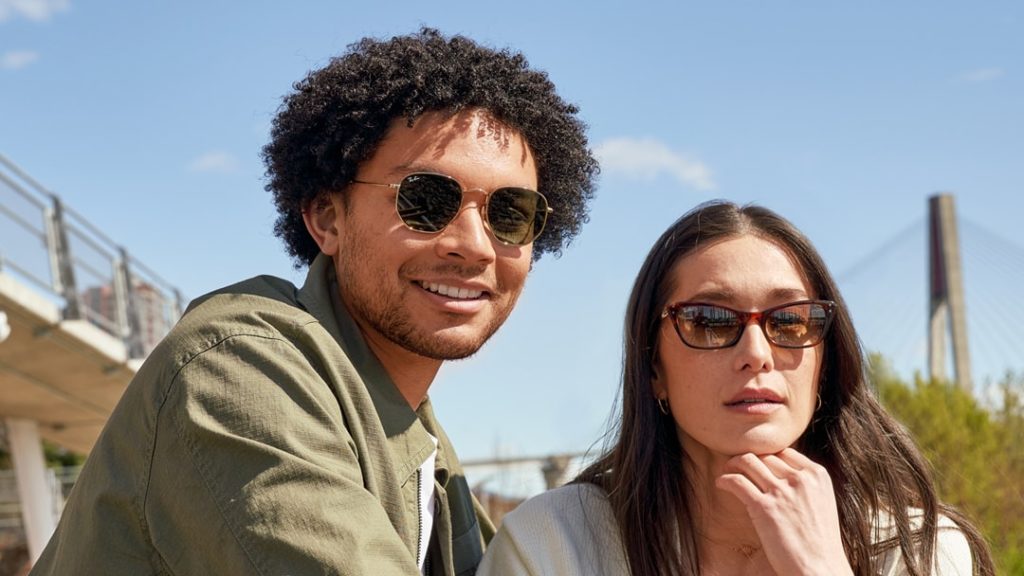 Getting the right size Ray-Ban glasses or sunglasses is very important. If your frame doesn't fit properly, you may feel uncomfortable.
Here are a few quick tips to help adjust your Ray-Bans to suit you:
If they slide down your nose, feel loose or tight, the tightness on your frame's temples may need an adjustment.
If they're crooked, where one side is higher than the other, your frame's height can be adjusted through the nose pads or temples.
But don't worry if you're not comfortable adjusting your Ray-Bans on your own. You can head to your local Clearly store for free fitting and adjustment.
Now that you know all about Ray-Bans, it's time to join the list of icons and slide into your own pair. Check out our guide for more tips on how to buy glasses online. For advice from our experts, reach out to us 24/7 via chat, email, or phone. You can also visit your nearest Clearly store if you're in the mood to try frames on in person.
Read more: