This post is also available in:

Français (French)
Kids blue light filtering glasses can be an important tool in their daily routine – especially as exposure to UV and blue light that's emitted by the sun and artificial light sources becomes an inevitable part of the way children learn, play, and explore.
Blue light filtering glasses for kids can have long-term benefits for children's eyes and their overall health. Here, we explore the best kids' blue light glasses.
Why do my kids need blue light glasses?
Children's eyes aren't as good at filtering out high-energy visible light (also known as HEV light), which means they're more vulnerable to the effects of UV rays and blue-violet light emitted from the sun and artificial light sources.  
Over time, extended exposure can cause retinal cell damage. Some studies show that too much exposure to blue light* can increase the risk of retinal cell damage. *blue-violet light is between 400 and 455nm as stated by ISO TR20772-2018. 
(ISO: International Standards Organization – "Ophthalmic optics – Spectacles lenses – Short Wavelength visible solar radiation and the eye, FD ISO/TR 20772")
Wearing blue light filtering glasses helps filter out blue-violet light and UV and they are great for indoors and outdoors.  
How to choose kid's blue light glasses
Healthy eyes begin with regular eye exams – children should get their eyes checked once a year to help identify vision issues.
From there, you can choose prescription lenses with blue light protection or add clear blue light lenses to kid's frames without a prescription.
1. Choose durable frames
You don't need us to tell you that kids put their clothes, shoes, and toys to the test – so look for glasses that can rise to the challenge!
Choose frames made from a durable material (like acetate) in a lightweight fit for comfort and easy wear. All Clearly kid's frames are designed to be especially durable.
2. Add blue light protection
Choose blue light filtering lenses that will protect children's eyes from UV and blue-violet light, such as our BlueReflectTM lenses.
3. Look for tough lenses
As well as durable frames, the lenses in your child's glasses should be able to keep up with their busy routine (and stay as clean as possible throughout the day).
Children's glasses should be made with a durable lens, like our Durable Air lenses, with a protective coating like C Shield, which offers anti-smudge and water-repellant qualities.
Free Glasses for Kids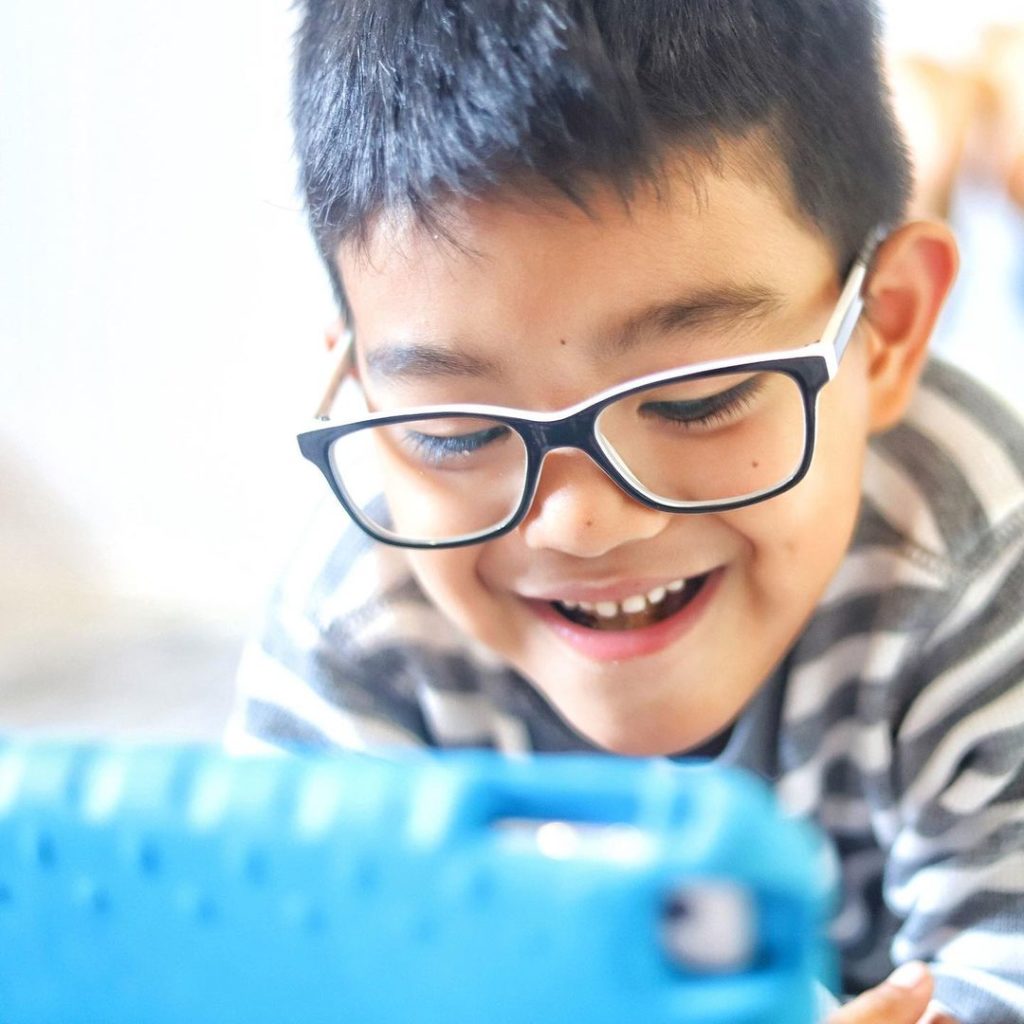 For an even more affordable children's blue light glasses option, you can take part in our Free Glasses for Kids program, which is available at all Clearly retail stores.
Simply bring your child's valid prescription and health card to your nearest location and choose a free pair of kids' glasses, with the option to upgrade to lenses with blue light protection.
Explore our range of kids' frames to find the perfect pair of children's blue light filtering glasses.  
Source
Published in the peer-reviewed journal PlosOne in 2013: (Arnault, Barrau et al., PlosOne, 2013). https://journals.plos.org/plosone/article?id=10.1371/journal.pone.0071398, Published in the peer-reviewed journal Cell Death and Disease (Impact factor ~6). (Marie et al., Cell Death and Disease, 2018)  https://www.nature.com/articles/s41419-018-0331-5