This post is also available in:

Français (French)
'Asian fit' is an informal term that refers to glasses that are designed to fit people with facial features that are more common if you have Asian heritage, such as a low nose bridge, high cheekbones, and a round face shape.
Of course, people from all sorts of backgrounds can have these facial features – 'Asian fit' has just become a (sometimes debatable) informal term. If you look around, you'll find that these types of glasses are also often called 'universal fit' or 'low bridge fit' glasses.
Here, we'll look at who 'Asian fit' glasses are typically designed for, how they can provide a more comfortable fit for some face shapes, and where the best place to buy 'Asian fit' glasses is online.
Who are 'Asian fit' glasses for?
'Asian fit' glasses are typically designed for people who have:
A low nose bridge
A round or wide face
High cheekbones
Some of these features are attributable to people who have distinct types of Asian heritage (which is why the term 'Asian fit' has become common). However, these features can be found in all sorts of faces from all sorts of places.
When it comes to wearing glasses, some common frustrations can arise:
Low nose bridge: Some glasses tend to slip down when the top of your nose bridge is lower than your pupils
High cheek bones: The bottom of the glasses frames might touch your cheeks, especially when you smile or talk
Wide or round face: Some glasses can feel tight and uncomfortable on your temples
How do 'Asian fit' glasses help?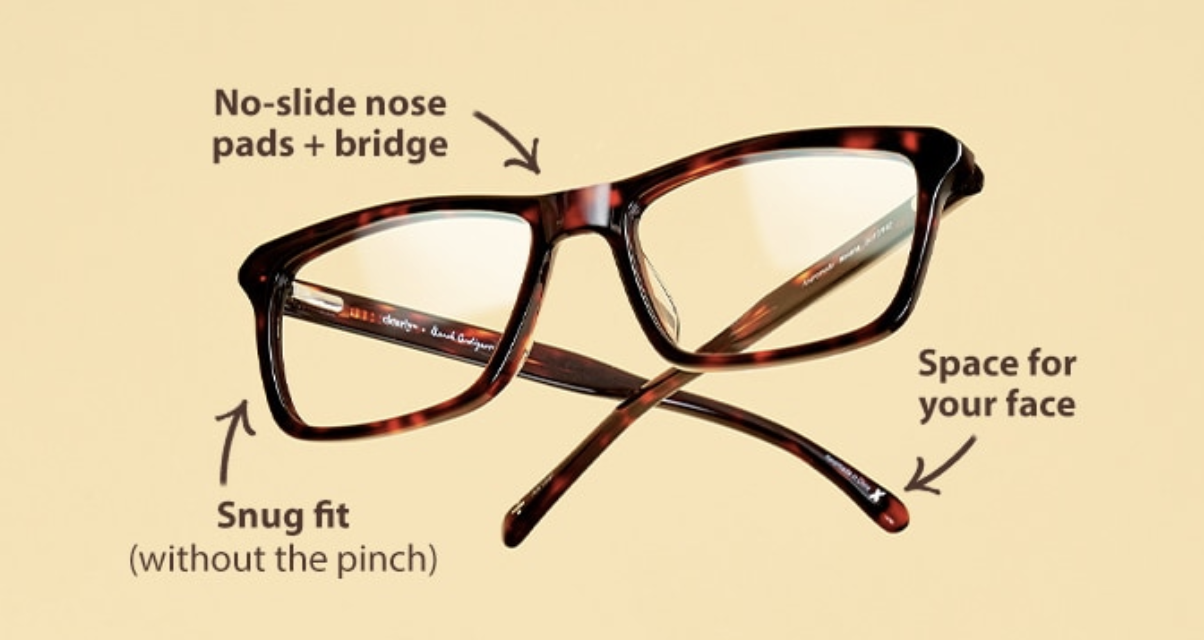 If you find that glasses are always slipping down your nose or pinching at the temples, low bridge fit glasses might provide a better fit.
They're specifically designed for a better and more comfortable fit, with specialized features including:
Large nose pads or a narrower nose bridge to prevent them from slipping and sliding
Frames that are slightly angled to prevent them from touching your cheekbones
Wider frame width and curved temple shape, so they're not too tight against your head
How to find the best 'Asian fit' glasses and sunglasses
Getting your prescription and measurements right is key to finding a pair of low bridge fit glasses that work for you. If you're due for an eye exam, book one at your nearest Clearly store.
If you need help deciding which frames suit your face shape, check out our complete face shape guide. When you're ready to pick out a pair, find out how to measure your glasses and frame size.
Once you know what to look for, it's easy to find glasses that fit you comfortably:
Pick your favourite frames from our low bridge fit collection
Enter your prescription (or skip this step if you want non-prescription glasses)
Choose your lens type – add blue light filtering lenses for dedicated periods of work or relaxing, or create a pair of sunglasses by picking a polarized sun tint  
Ready to shop? You can find low bridge fit glasses online or at any Clearly store.
Find more inspo:
See you on social!