Calgary, we're here! You can now get your essential eyewear and eye care at the new Clearly Chinook Centre store. From watching the sun rise over Bow River to keeping a close eye on the Deerfoot Trail traffic, we've got your vision needs covered.
Book an eye exam or store visit and read on to find out everything you need to know about the new Clearly Chinook Centre eyewear store.
Whether you wear glasses or contact lenses, or it's time for your next comprehensive eye exam, we're set up for safe shopping – and our team is so excited to see you.
Our Mission is to eradicate poor vision by 2050 and ensure everyone has access to the eyewear they need to see clearly, stretching from Calgary to communities around the world. By taking care of your eyes, you're ensuring that others can do the same – stop by to learn more about the impact you're helping us to make.
Here, we talk through our COVID-19 safety precautions, give you a sneak peek at the great deals on offer, and explain how you can take advantage of our amazing Free Glasses for Kids initiative.
Eyes wide open: Our COVID-19 precautions
Our priority is to make sure you can access eye care services safely and with peace of mind. All of our stores are fully set up for safe shopping, and we're adapting and changing in line with the latest health guidance.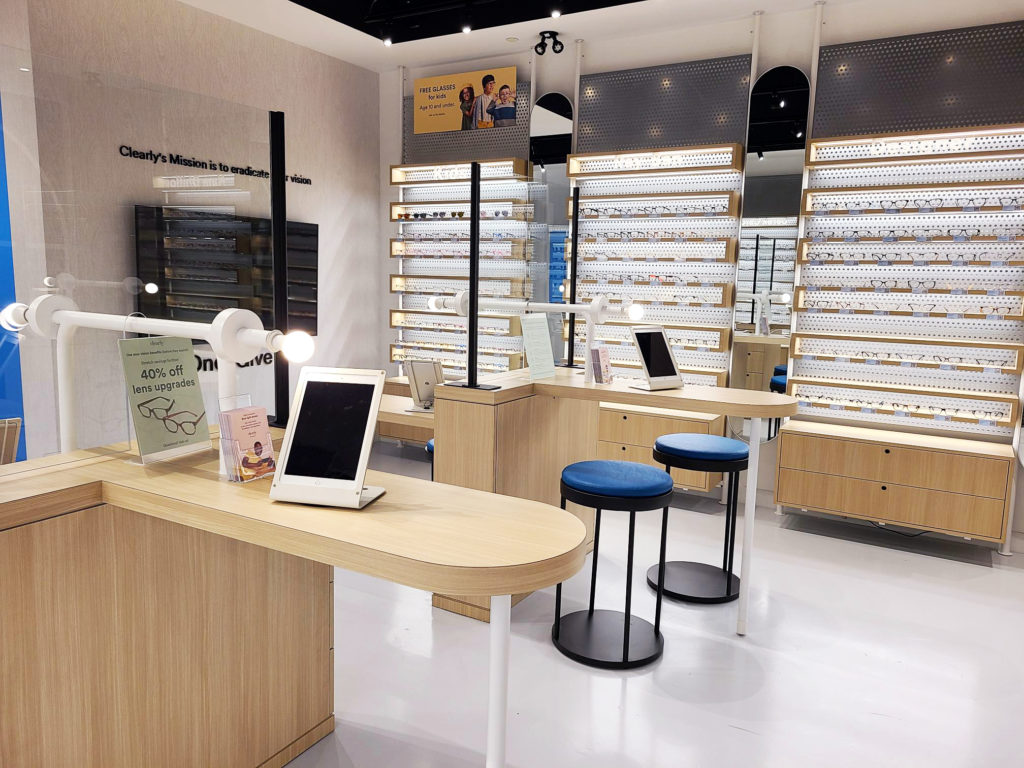 Here's what you need to know about visiting Clearly Chinook Centre:
Pre-booked visits: Book your eye exam or store visit in advance via our online platform.
Reduced capacity and social distancing: We're limiting the number of visitors in store, so you have plenty of space.
Temperature checks: No-contact temperature checks for all staff and visitors.
In-store Virtual Try On: Browse the store and try frames on using your phone with our touchless Virtual Try On tool.
Rigorous sanitization: All glasses sanitized after each use, regularly wiping down all surfaces.
PPE and barriers in place: We ask that all staff and visitors please wear a mask.
Glasses and contacts and more (oh my!)
Whether you love your specs, stick mostly to contacts, or dabble in both, we've got all your eyewear needs covered:
Our team is working hard to ensure all frames are sanitized after each use, with strict cleaning protocols in place. You can also get futuristic and use your phone to try frames on with our easy in-store Virtual Try On tool.
Get the most out of your budget
From glasses across all price-points to regular promotions on frames, lenses, and contacts, we're confident that we'll soon be Calgary's go-to destination for affordable, stylish eyewear.
Visit us to take advantage of the current in-store offers. We can also get you the paperwork you need for your vision insurance claims – ask our team how to use your FSA or health benefit dollars to claim back the cost of your eyewear.
Buy One, Give One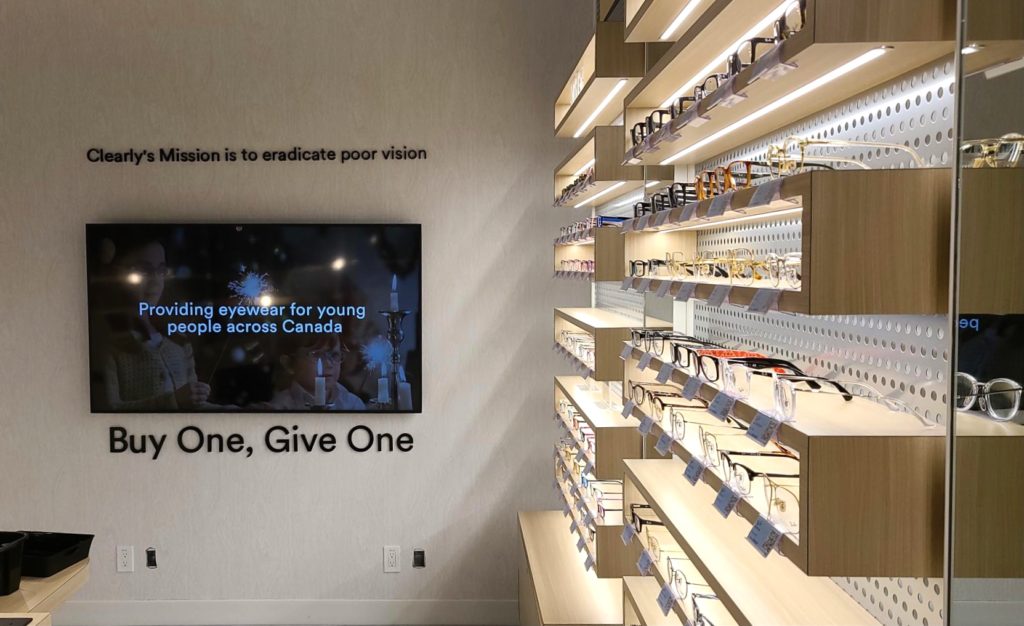 Getting new pair of glasses at Clearly doesn't end at improving your own vision – you're also helping someone in need. When you buy a pair, you can also choose to donate a pair through our Buy One, Give One program.
So far, we've committed 475,000+ pairs to people living in 51 countries around the world – and it all starts with you.
Free Glasses for Kids
As part of Our Mission to eradicate poor vision, we're working hard to make sure eyewear is accessible and affordable for everyone. Through our Free Glasses for Kids initiative, children age 10 and under can get a free pair of glasses at any Clearly retail store.
Identifying and correcting vision issues early on can make a vital difference in a child's life – 80% of classroom learning is visual, and yet nearly 25% of children have untreated vision problems. When left untreated, these issues can cause frustration, learning difficulties, and a negative self-image.
Our goal is to make sure every child has the opportunity to see their full potential. To get a free pair of glasses, all you need is your child's valid prescription and health card. Bring these into Clearly Chinook Centre and pick out a pair of frames that will help your child feel confident and ready to take on challenges in and out of the classroom.
Book a store visit at Calgary Chinook Centre to take advantage of this program. If it's time for your child's annual eye exam, you can also book an appointment online.
Eye exams and optometrist services
When was your last eye exam? Take it from the pros – adults should get their eyes checked every 1-2 years, and children should have an eye exam every year.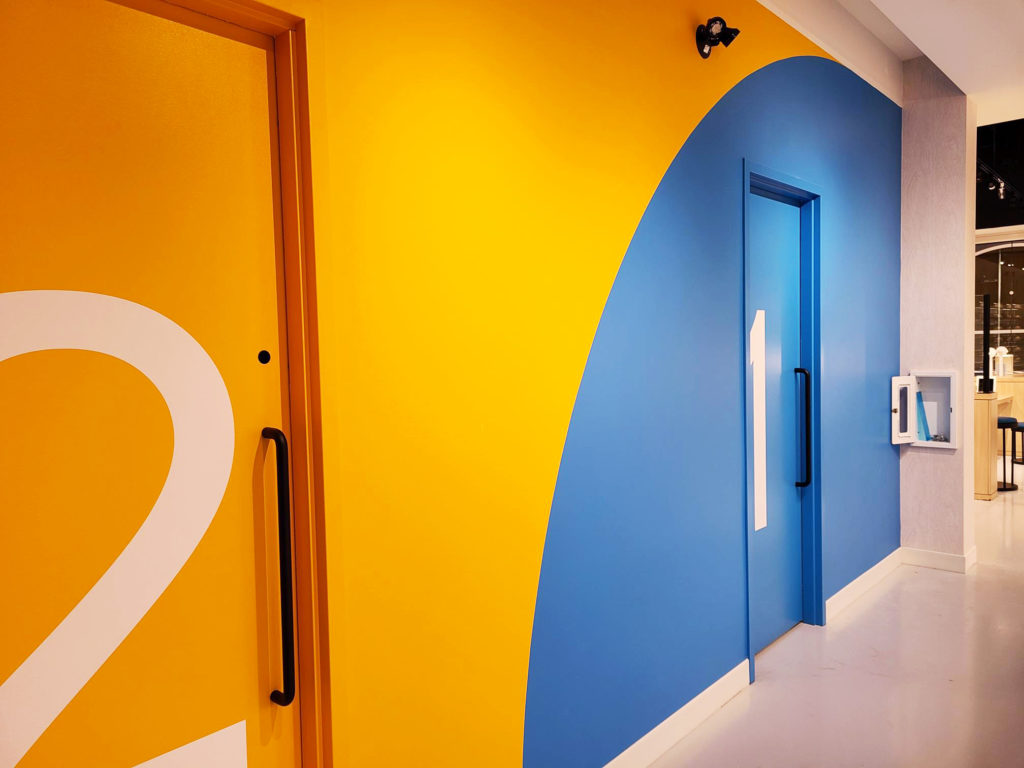 As well as making sure your prescription is up to date, a comprehensive eye exam can diagnose vision problems such as glaucoma, diabetic retinopathy, and macular degeneration, as well as other health concerns.
Book online to get your eyes examined by Clearly's on-site partner Doctors of Optometry and experience the latest ophthalmic technology. Eye exam customers will also get exclusive discounts on Clearly's huge range of glasses and contact lenses. 
The complete list of optometry services at Clearly Chinook Centre includes: 
Comprehensive eye exams 
Contact lens assessments and fittings 
Digital retinal 3D imaging
Pre- and post-operative care
Seniors eye exams
Paediatric eye exams
Cataract assessment
Red eye visits
We also have opticians on hand to help with:
Complimentary glasses fittings
Frame adjustments
PD measurements 
Ready for your visit? We'll keep our eyes peeled for you. Come find us in Chinook Centre today – we'll be the ones wearing a big smile and (of course) glasses.