As part of Our Mission to eliminate poor vision, we're doing what we can to make sure everyone has access to the eye care and eyewear they need – and regular eye exams are the starting point for healthy eyesight.  
In Canada's cities and urban areas, it's relatively easy to make it to a Clearly store or another optometrist's office for an eye exam. But in remote communities that don't have a local eye doctor, these basic healthcare services aren't always readily available.
When the Clearly for Community team learned that many children in Bella Bella, BC hadn't had a recent eye exam (and that some had never had an eye exam), we decided to bring our clinic to their doorstep. During an incredible week of eye exams and spontaneous glasses fashion shows, we helped approximately 100 children.
Read on to learn about our recent adventures in Bella Bella and the amazing people we met while we were there. 
Why Bella Bella?
Bella Bella is located on Heiltsuk Territory on the west coast of British Columbia. This beautiful, remote coastal community is home to 1,600 people – many of whom are children who lacked access to necessary eye care.  
Dr. Alisa Lipson, a pediatrician who works closely with the Bella Bella community, noticed the need for vision services amongst her young patients – but, from Bella Bella, access to eye care is a 500-kilometre journey.  
Children should see an optometrist once a year, but most kids in Bella Bella had never had an eye exam before.
"Most of our kids, if they have serious vision problems, are cared for through ophthalmology at BC Children's Hospital. But for the kids that just need more ordinary vision care, they still have to go outside the community… They'd to go to Nanaimo or they'd have to fly to Vancouver just to get a proper vision test," Dr. Lipson said. 
The story that started it all
One day, when a young patient of Dr. Lipson's showed up to an appointment with broken glasses and no way of getting them replaced, she decided to take action and reach out to Clearly.  
"I could see that he couldn't even see through them. [His mother said] he has to get new glasses. These are his old ones. He broke his new ones. He can't even see through his old ones. And we need a new prescription. But we can't even get out of Bella Bella because there was no room on the flights," Dr. Lipson said. 
She connected with Dr. Justin Asgarpour, optometrist and Chief Vision and Mission Officer at Clearly, and explained the need for vision care services in Bella Bella. 
As part of our Free Glasses for Kids program, we already provide children aged 10 and under with free prescription eyewear exclusively at all Clearly stores. We were excited by the opportunity to extend access to eye care to the children in Bella Bella – and the Clearly for Community team kicked into action!
Our mobile eye care clinic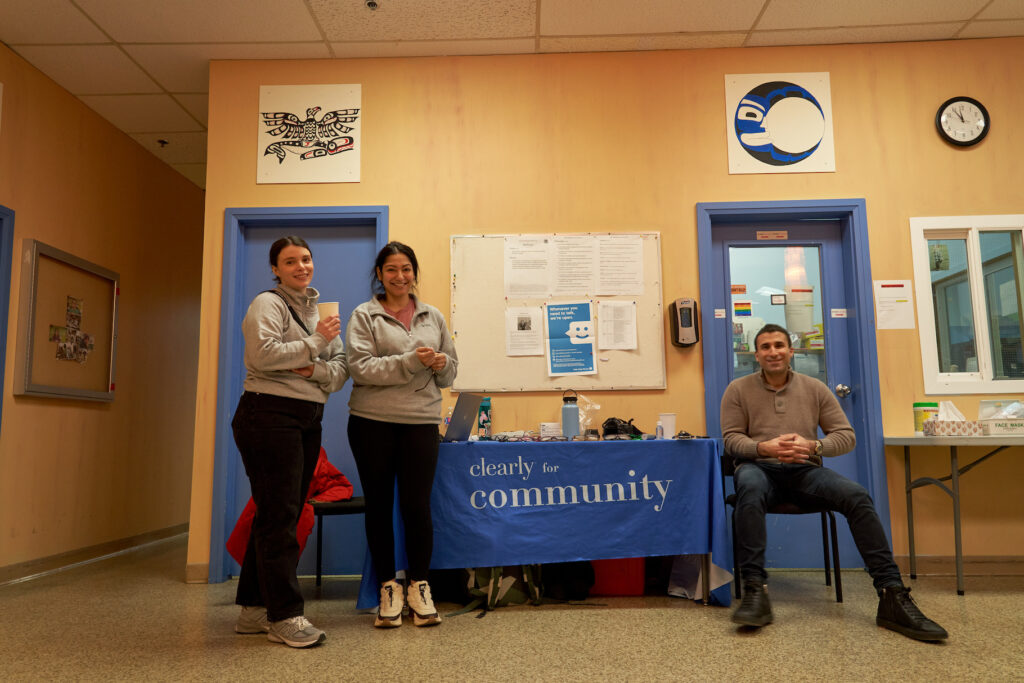 Clearly for Community team members were joined by not one but two Dr. Asgarpours, from Asgarpour Optometry. On February 21, 2023 they all travelled from Clearly Headquarters in Vancouver to Bella Bella.
The team caught the sea bus around 7am each day to set up a mobile eye care clinic at the local school. From 8am-3pm, they saw a steady stream of patients. This involved:
Pre-screenings, which included interactive eye tests along with autorefractive imaging
Eye exams, which involved retinal imaging and ocular scans
PD measurement and glasses measurements (for the children that required vision correction)
Glasses selection – the most fun part of all!
Over the course of the week, they saw approximately 100 kids between the ages of 5 and 17. 
The need for childrens' eye care in Bella Bella
Typically, one in four children across Canada requires vision correction, but in Bella Bella, the figure is much higher. Around 65% of those who attended the clinic required glasses to correct refractive errors.    
The optometrists noted that these children had a higher prevalence of refractive errors, astigmatism, and sight-threatening amblyopia. This is reflective of trends amongst indigenous populations, according to a study by the National Institutes of Health.
As well as preventing long-term health issues, eye exams are vital for children's wellbeing and development across all other aspects of daily life.
The Canadian Association of Optometrists reports that 80% of learning is visual and untreated vision issues can cause children to develop at a slower rate and experience frustration with learning.  
Dr. Lipson echoed these concerns, noting that vision affects "learning in every way, like learning that's being taught in school, but also the incidental learning that happens all day long for children just by being in the world and watching and noticing.  
"Picking up on such things as social cues is also going to be affected. And so children [who do not have adequate vision correction] can end up being frustrated and not connecting properly."  
Seeing the difference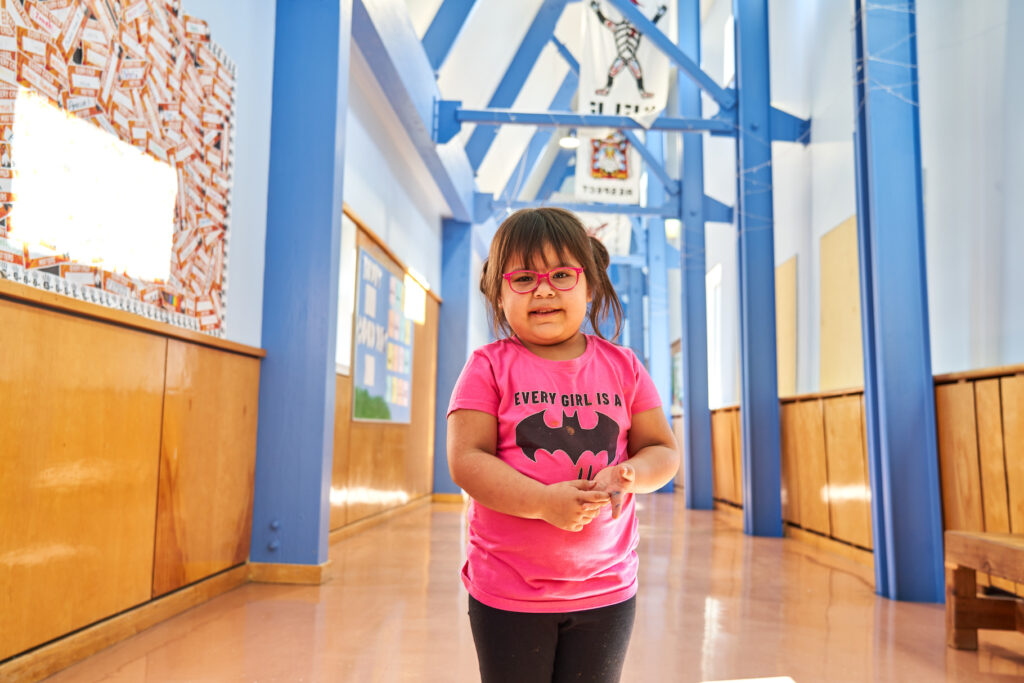 A few weeks after the initial trip, a few members of the Clearly for Community team returned to Bella Bella to give the children their custom-made prescription glasses. Optician Karl Chua led the glasses delivery station.
As well providing fittings and adjustments, the kids were given a case and cleaning cloth and taught how to clean and care for their new glasses.
In return, the team received priceless smiles as the children saw the world clearly through their new lenses.
"I felt an overwhelming sense of fulfillment! As a registered Optician with over 5 years of experience, I believe that this is what the profession is truly about – empowering children to see better and enhance their quality of life," Karl said. "It was truly heartening to witness the immediate positive impact on their lives."
Our Bella Bella highlights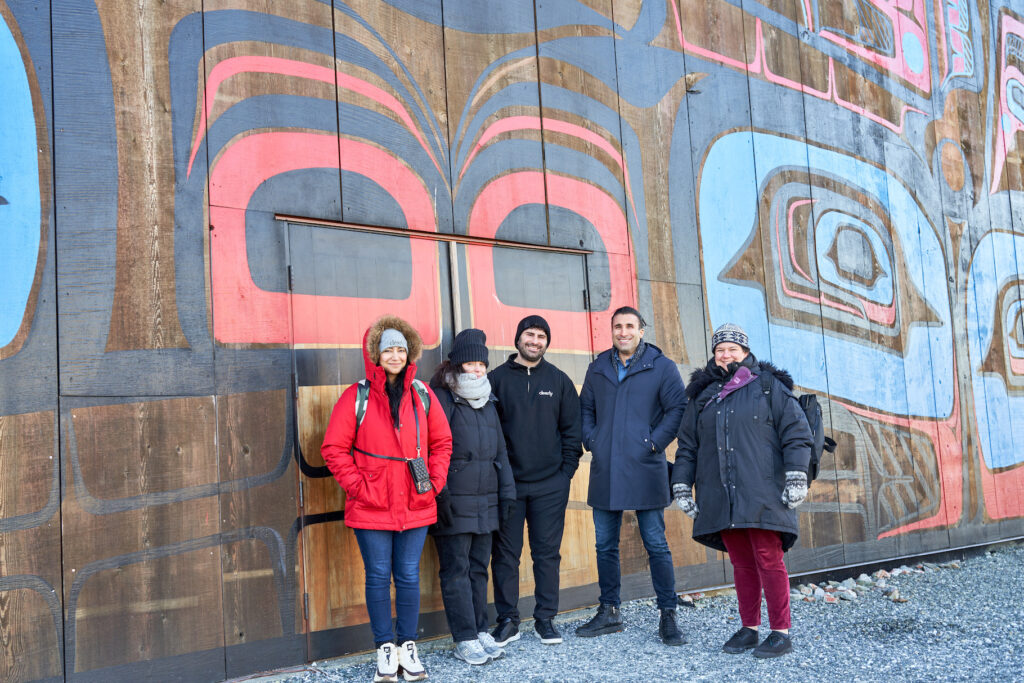 From start to finish, Bella Bella was an adventure that we'll never forget. There were so many amazing moments that we'll carry with us, and the people we met there will continue to shape the way we approach eye care and impact the work we do across Canada.
It's impossible to capture everything, but the team has shared some of their favourite stories and highlights.
"One of my favourite stories was of a sweet little girl who badly needed to have her eyes checked. We knew from her visual acuity test that the vision in one of her eyes was very poor, if not totally blind, so it was imperative that we administer eye drops to dilate her eyes to confirm there weren't any other issues.
"Being so young and having never had an eye exam she was understandably very scared and it took almost the entire day to finally convince her to get them put in. As she came out with tears in her eyes I thought of my own children and how it must be to feel like you're being poked and prodded.
"I asked if she wanted a hug and she said yes, which ended with a little smile from her. We managed to get her accurate prescription and she chose a cute pair of glasses." — Kim Edge, Office and Corporate Events Manager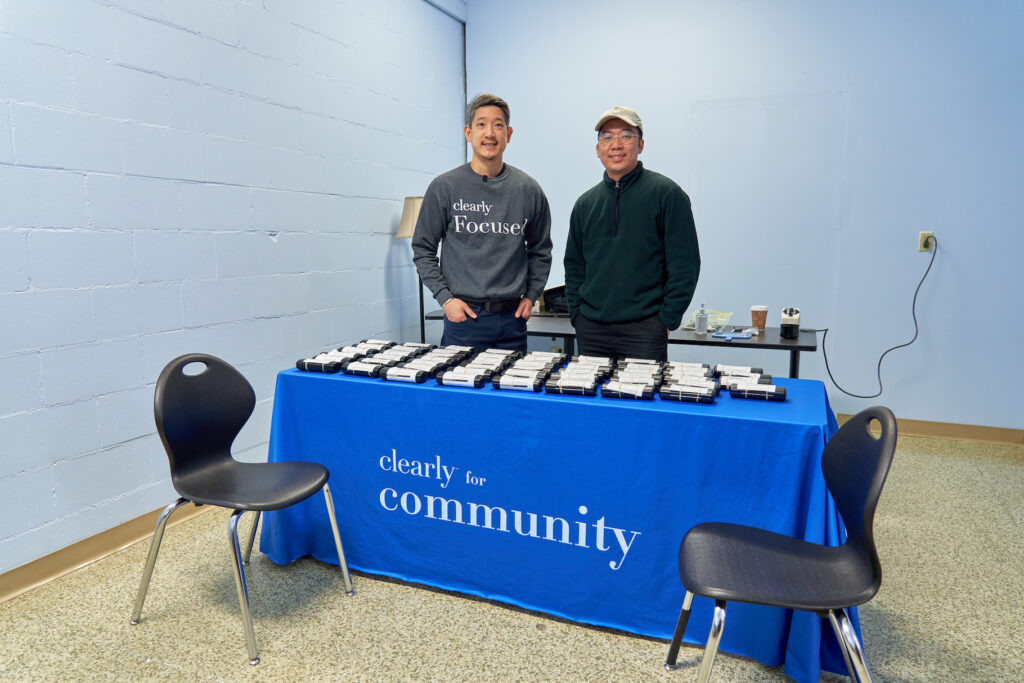 "My favourite part of the trip was interacting with the little students and seeing the impact of our mobile eye clinic. It was heartwarming to witness their gratitude and excitement for our services. I also enjoyed learning about the community's culture and way of life, making it a unique and memorable experience." — Mark Marilla, Lead Photographer
"I loved being able to interact with amazing children on a regular basis, seeing them laugh and smile while selecting their glasses and witnessing the community's beautiful culture." — Dr. Justin Asgarpour, Chief Vision and Mission Officer
"The highlight of the trip was witnessing first-hand the children's reactions as they received and put on their new glasses. It was a heartwarming experience to observe the immediate impact on their lives, as their faces lit up with happiness. It reinforced the value of our work and the importance of providing access to vision care for those in need." — Karl Chua, Optician and Quality Assurance and Training Manager
If you want to help promote vision care in your community, the first step is ensuring kids (and grownups!) are keeping up with regular eye exams. Children should get an eye exam every year (and adults should get one every 1 to 2 years). Through our Free Glasses for Kids program, all children age 10 and under can get a free pair of glasses at any Clearly store.  
Want to hear more stories about the incredible people we've met in our Mission to eliminate poor vision? Check out our Impact Report.