If you find yourself at the end of the year wondering, 'what even happened in 2022?': we've got you – here's a brief roundup.
In the wider world, Beijing hosted the Winter Olympics, we mourned the passing of Queen Elizabeth II, and Swifties everywhere rejoiced the release of Midnights. Another major highlight of 2022? You helped us donate over $18,000 to organizations that are close to our heart and commit 700,000+ glasses to people in need.
As always, our focus in 2022 was on making eyewear affordable, making eye care accessible, and raising awareness about the importance of eye health. From providing people in need with free prescription eyewear to pitching in at community events just down the road, we've been busy.
Explore our 2022 Impact Report and learn about all the amazing things you helped us accomplish this year.
700,000+ pairs donated through Buy One, Give One
7,500+ pairs of Free Glasses for Kids
1 new sustainable line launched and 7,000+ old pairs repurposed
3 new stores opened (and 1 expanded)
Launched online direct billing for vision care insurance
Buy One, Give One
700,000+ pairs committed to date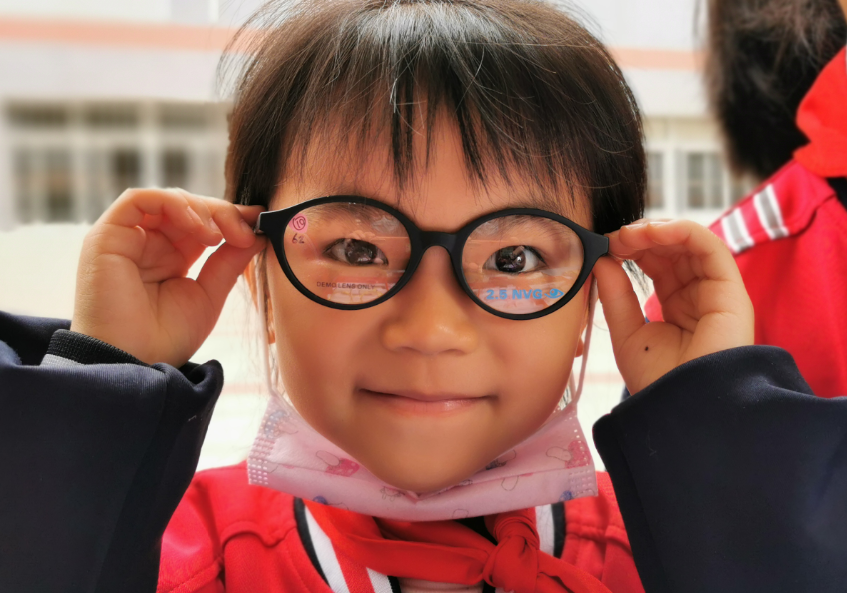 Did you know that when you buy a pair from us, you can donate a pair to someone in need at no cost to you? One click in the checkout can change someone's entire perspective on life – literally. (One of those 'someones' is Wang Feng, a 7-year-old living in Yunnan Province, China, pictured above.)
This year, you helped us donate over 125,000 pairs of glasses, bringing us to the milestone of over 700,000 pairs committed through our Buy One, Give One program to date. In partnership with the Essilor Vision Foundation, these glasses will be distributed to people in over 50 countries around the world.
Free Glasses for Kids 7,500+ pairs distributed to date
October marked the 2-year anniversary of the launch of our Free Glasses for Kids program, which is available at all Clearly stores for children aged 10 and under.
Throughout 2022, we were delighted to meet tons of incredible kids across Canada who visited our stores to take part in the program.
We were proud to equip them with the glasses they need to see the board at the front of the classroom, the outline of their next crayon masterpiece, and do all the other things that allow them to reach their full potential.
Our Chief Vision and Mission Officer, Justin Asgarpour, puts it this way: 'This program breaks down financial barriers around eyecare by ensuring that kids have access to completely subsidized eye exams with our partnered doctors – as well as free glasses, of course! To date, we've equipped over 7,500 kids, two-thirds of whom received their first ever pair of glasses from us.'
In total, we gave 3,800+ pairs of free glasses to amazing kids in 2022 (bringing our total to 7,500+ pairs distributed to date!).
Throughout the year International Women's Day $10,000 donated to Seva Canada
As part of Our Mission to eliminate poor vision, we donated $10,000 to Seva Canada to help restore sight for 200 women around the world.
Another highlight of International Women's Day? Getting to work with five influential women who curated an eyewear collection and spoke to how vision empowers them to #BreakTheBias.
OneSight Clinic
This spring, Clearly's very own Optical Lab Technician Rosa Perez Hernandez participated in the OneSight Clinic at Ahkwesahsne Mohawk School in Cornwall, Ontario. Overall, the team helped 197 children who were in need of vision care services.
Regarding her experience, Rosa shared: 'Two days after the event, the director of the school told us that the kids that received their eyeglasses were already able to focus and participate much more in class. That was awesome! These events are important because they make an incredible impact on people's lives. I feel content and grateful for this opportunity to help others.'
$40 million for Canada's eye health
This July, we made a 40-million-dollar investment in the eye health of Canadians by giving every Clearly customer $20 in their account. We believe that taking care of your eyes shouldn't be expensive, so we encouraged Canadians to invest in their 20/20 vision, starting with $20.
Kms for a cause
In June, we made fitness into a fitting occasion to give back by donating $1 (and mayyybe rounding it up just a little) for every kilometre that our team ran, walked, or hiked. In total, we raised $5,000 for Indspire, a national Indigenous charity that invests in the education of First Nations, Inuit, and Metis people.
Plane Pull for Sight
Pulling a 757 cargo plane probably isn't the first thing that comes to mind when most people think of giving back, but when it raises money to fight avoidable blindness and support a Flying Eye Hospital, we are absolutely on board.
Clearly contributed over $3,000 towards this awesome cause, and in total, Orbis Canada's Plane Pull events raised over $158,000 across the country. We were proud to participate (and even prouder that we came in second in the event, pulling a 60-tonne plane 20 feet in 12.69 seconds!).
World Sight Day 2022
To celebrate World Sight Day (October 14), we treated people outside our Kitsilano location to free brownies from a local food truck (and treated ourselves to the opportunity to gush about eye exams and our Free Glasses for Kids program). Proof that reminding people to take care of their eye health can be a sweet sight, indeed.
Clearly for Community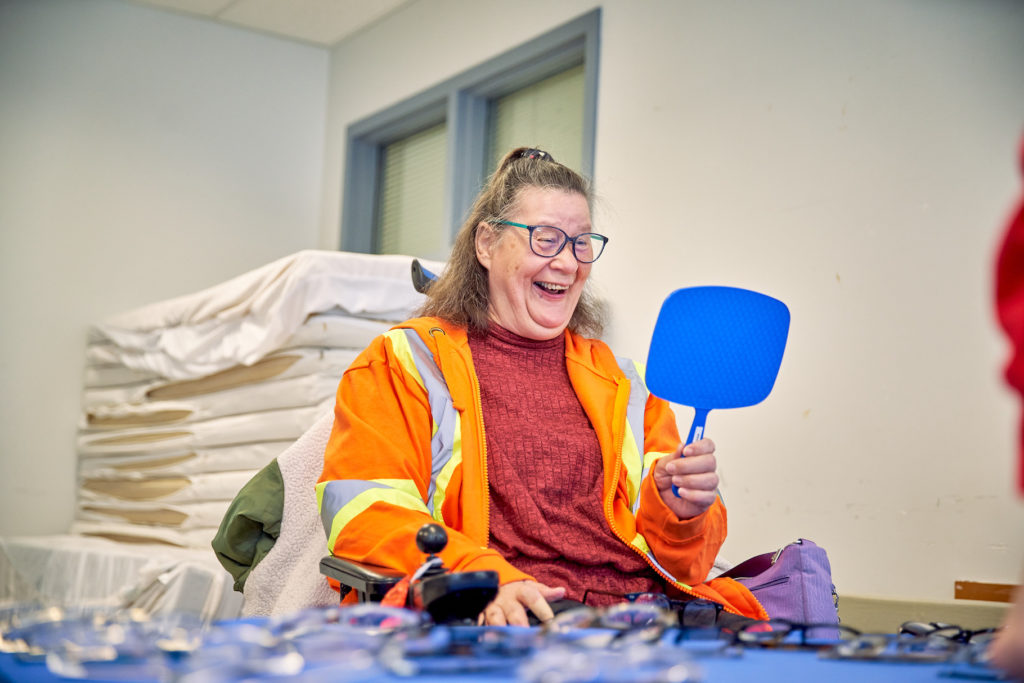 Throughout the year, our Clearly for Community initiative brings essential vision care, eyewear, and support to people in our own backyard.
This year, our team members volunteered at events where we provided over 600 pairs of prescription glasses to people in need through our partnership with The Gathering Place, The Aboriginal Friendship Centre Society, BC Housing, Coast Mental Health, AIDS Vancouver, and seniors' residences here in Vancouver. We also donated 2,000 pairs to Canadian Vision Care, an organization that provides essential eye health services and eyewear around the world.
Clearly's Chief Vision and Mission Officer, Justin Asgarpour, had this to say: 'Clearly has provided free glasses to underserved communities in Canada for the past 10 years. Recently, the program has evolved and we've been able to leverage our retail technology to more efficiently provide eye care services to people in need through "pop-up" optical settings.'
Some members of Team Clearly who volunteered at events throughout the year shared their thoughts as well:
Madeleine Ritzker, Content Marketing Manager
'Talking to the friendly people that came through our door gave a deeper meaning to all the content I've worked on during my time at Clearly. Progressive lenses for someone who was tired of having to carry multiple pairs around. Retro frames for someone who was after a vintage vibe. A distance prescription to help someone see the numbers on the bus.

Our Mission to eliminate poor vision came to life, right before my eyes and it's totally shifted my viewpoint for the better as I sit here, at my desk, wearing, thinking, and writing about glasses.'
Jennifer Tsai, Director of Finance
'Being able to see well is such a basic necessity that we sometimes take for granted. Spending the day with people in our community that are in need of fulfilling that basic necessity was a great reminder that vision can impact almost every aspect of our lives. The bonus was listening to everyone's stories while they picked out the best frame to suit their needs and look.'
Get to know Clearly for Community and learn more about our partnerships.
Eyes on the environment
As individuals and organizations around the world shift towards more eco-conscious habits, we're also looking to constantly improve the way we do things at Clearly.
2022 saw the advancement of some important initiatives that are helping us to reach our goals.
Repurposing 7,000+ pairs of old glasses
If you're wondering where you can give new life to your old glasses, you're in the right place (almost). Bring your old frames into any Clearly store and look for the glasses donation box (a project we were proud to launch earlier this year). We'll make sure your old pair is repurposed and donated to someone in need.
In 2022, we were able to repurpose and donate over 7,000 pairs of glasses that you brought in.
Launching Bio-acetate
This year, we launched bio-acetate frames, aka biodegradable, plant-based glasses. Made using renewable resources and 54% less CO2 emissions than regular acetate, bio-acetate (and its sister in sustainability, Reincarnate) is all about making small choices that contribute to a larger impact.
Opening new stores
What do Ottawa, Mississauga, and Edmonton have in common (aside from being freezing cold in the winter)? They all got new Clearly stores in 2022! In addition to moving and expanding our Toronto store, these exciting new additions mean that we can now provide more people than ever with eye exams, affordable eyewear, and essential eye care – not to mention Free Glasses for Kids.
Launching online direct billing for vision care insurance
Who's excited about vision insurance?! We know – no one, really. (Except us.) But hear us out. This year, we launched Canada's first ever online direct billing for eyewear, meaning you can now claim your vision insurance benefits right in the checkout when you're shopping for glasses, contacts, or other eligible eyewear. No more paying out of pocket, then waiting to be reimbursed by your insurance provider.
With 53% of Canadians reporting that they are $200 or less away from being unable to pay their monthly bills*, our online direct billing service is another step towards breaking down financial barriers that prevent people from being able to access essential eyewear.
'This is truly a revolutionary platform in the online Canadian eyecare sphere, and we are so proud to be the first to implement online direct billing. With glasses starting at $9, we hope to be able to offer all Canadians access to the eyecare they need,' says our Chief Vision and Mission Officer, Justin Asgarpour.
Hopefully, we've convinced you to join the excitement. Read more about the launch of direct billing, and find out how it works.
Looking back at 2021
This year wasn't the only one in which we reached some incredible milestones. Let's look back on 2021 by the numbers:
Donated: 
Looking back, we've accomplished a lot – and we're looking forward to doing even more in 2023. It's your support that allows us to support others, so thank you for helping us to make an impact and help everyone see clearly.
Learn more about Our Mission and reach out to us on Facebook to share your thoughts about what you'd like to see us do next year.