If you're a contact lens wearer, we don't need to tell you about the freedom and convenience that contact lenses provide. But that doesn't mean they can do it all! Contact lens wearers still need a trusty pair of glasses, too.
In this blog post, we'll explore the reasons why contact lens wearers need glasses. From expressing your personal style to looking after your eye health, you'll see that having a pair of glasses on hand is a must-have for any contact lens wearer.
1. In case you run out of contacts
Running out of contact lenses can be a frustrating experience, especially if you don't have a backup plan. By having a pair of glasses, you can ensure that you always have a clear and comfortable way to see. This is especially important if you use your contact lenses for essential daily activities such as driving or working. 
If you need a little inspiration, here are the top glasses trends for men and women.
2. The benefit of having blue light filter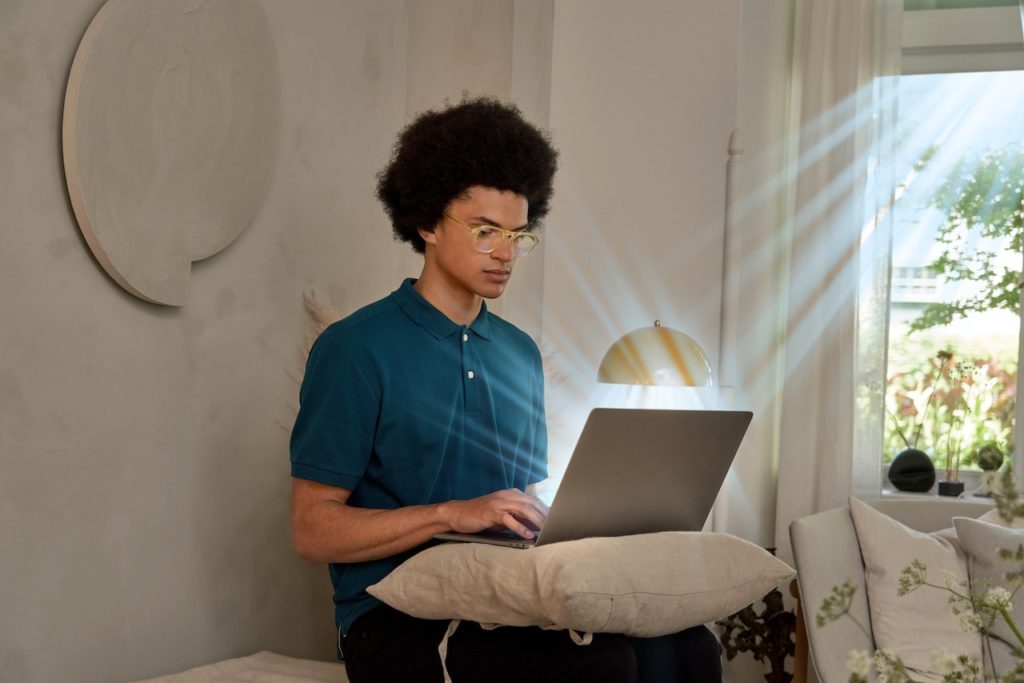 Whether you spend a lot of time working or relaxing indoors and outdoors, prescription blue light glasses are a great choice. They help protect your eyes from UV and blue-violet light emitted from the sun and artificial light sources, so your eyes can rest from wearing contacts and see clearly at the same time.
*blue-violet light is between 400 and 455nm as stated by ISO TR20772-2018, which is considered potentially harmful.
(ISO: International Standards Organization – "Ophthalmic optics – Spectacles lenses – Short Wavelength visible solar radiation and the eye, FD ISO/TR 20772")
Here's everything you need to know about blue light glasses lenses.
3. You need sunglasses for UV protection
Prescription sunglasses are a total game-changer if you spend long days outside or driving. They not only provide optimal UV protection but also help reduce glare and improve visibility in bright sunlight.
Choose from a variety of sunglasses and sun lenses to protect your eyes from the sun and rock your prescription in style and comfort outdoors.
Check out how to build your own prescription sunglasses.
4. Express your personal style
Glasses are more than just a functional accessory nowadays — they can also be a stylish and fashionable addition to your wardrobe.
It's all about finding the perfect pair that reflects your personal style. That way, you can make a statement and stand out from the crowd with a pair that truly speaks to you.
Take a peek at 10 celebrities who look completely different with glasses.
5. Make sure you're following a healthy wear schedule
Sticking to the recommended wear times for your contact lenses is super important to avoid risks of eye irritation, infection, or other complications.
If you've maxed out your contact lens wear time for the day, switching to glasses can give your eyes a much-needed break and help prevent eye strain and discomfort.
Here's how long you can actually wear daily contact lenses.
6. In case of an eye infection
If you experience symptoms of an eye infection, such as redness, discharge, or pain, it's important to see an eye doctor right away.
In the meantime, switching to glasses can help prevent the infection from spreading, avoid further irritation, and provide a clear and comfortable way to see while giving your eyes the rest they need to heal.
Find an eye doctor at your nearest Clearly store.
7. In case of allergies or discomfort
If you're troubled by eye allergies or other eye-related discomfort, switching to glasses can help provide relief. Plus, there are a variety of eye care accessories available, such as eye drops or eye masks, that can help alleviate symptoms and improve overall eye health.
To learn more about the different types of eye drops, read our blog about how to put in eye drops.
Try on glasses online with Virtual Try On
Why not check out our Virtual Try On Guide? It's a great way to browse through our various frame styles and designs and get a sense of what you like. With frames starting at just $9, you're sure to find something that not only suits your face but also your wallet.
Visit our Virtual Try On Guide page
Select the 'Size' option in the filter menu
Check off the size that fits you or enter your glasses measurements
After you've found your favourite frames
Click 'Add Lenses' to input your glasses prescription (it's different than a contact lens prescription)
Choose your preferred lenses
Head to checkout (find the deal of the day on our coupon codes page) 
While contact lenses are a convenient and popular choice for vision correction, it's important not to solely rely on them. By having a pair of glasses, you can ensure that you always have a clear and comfortable way to see and express your personal style. Plus, alternating between glasses and contacts can help promote healthier eyes and vision overall.
Read more:
See you on social!