This post is also available in:

Français (French)
Wondering which glasses are best for your face shape? It's all about finding a style that makes you feel confident – and we're here to help.
Sometimes, having a general idea of your face shape can be a good starting point when you're shopping for glasses or sunglasses. Learn how to work out whether you have a round, oval, square, diamond, triangular, or heart shaped face and get expert recommendations on which frames will best suit your face shape.
If you're ready to get specific, we've also answered the most common questions we get about glasses for small, wide, or long faces, big heads, large foreheads, high cheekbones and even (yes, it's a popular one) glasses for bald men.
Take these suggestions, make them your own, and read on for everything you need to know about finding glasses for your face shape.
What is my face shape?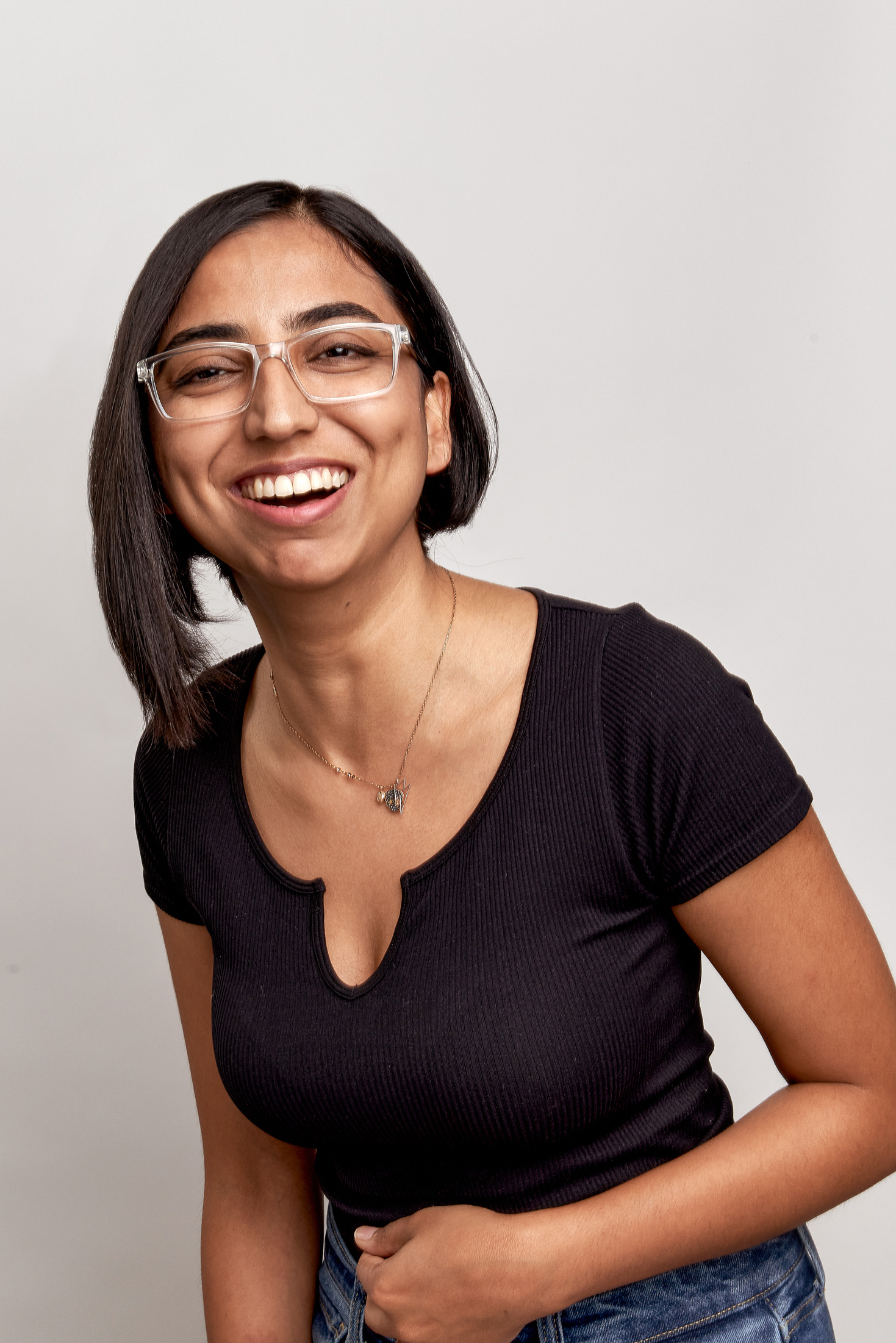 In order to choose properly, you first need to identify your facial features and figure out which category your face shape falls into:
Square shape face:

Broad forehead and chin, wide angular jawline

Round face:

Forehead, cheeks, and chin are similar in length and width, with soft cheekbones and jawline

Heart shape face: Wide forehead, narrow chin, prominent cheekbones

Diamond shape face:

Narrow forehead and chin, wider cheekbones and full cheeks

Oval shape face: Narrow forehead and chin, high and wide cheekbones, subtly curved jawline

Triangular shape face: Narrow forehead, wide jawline and chin
It's important to remember that your face shape is yours alone – almost nobody's face is a perfect heart, circle, square, and so on.
Most faces are actually a combination of a few different shapes: rounded chins and tall foreheads, angular features and tapered jaws – which is great news, because it means there are plenty of glasses styles that look great on all shapes of faces!
Ho

w

to

work out

your face shape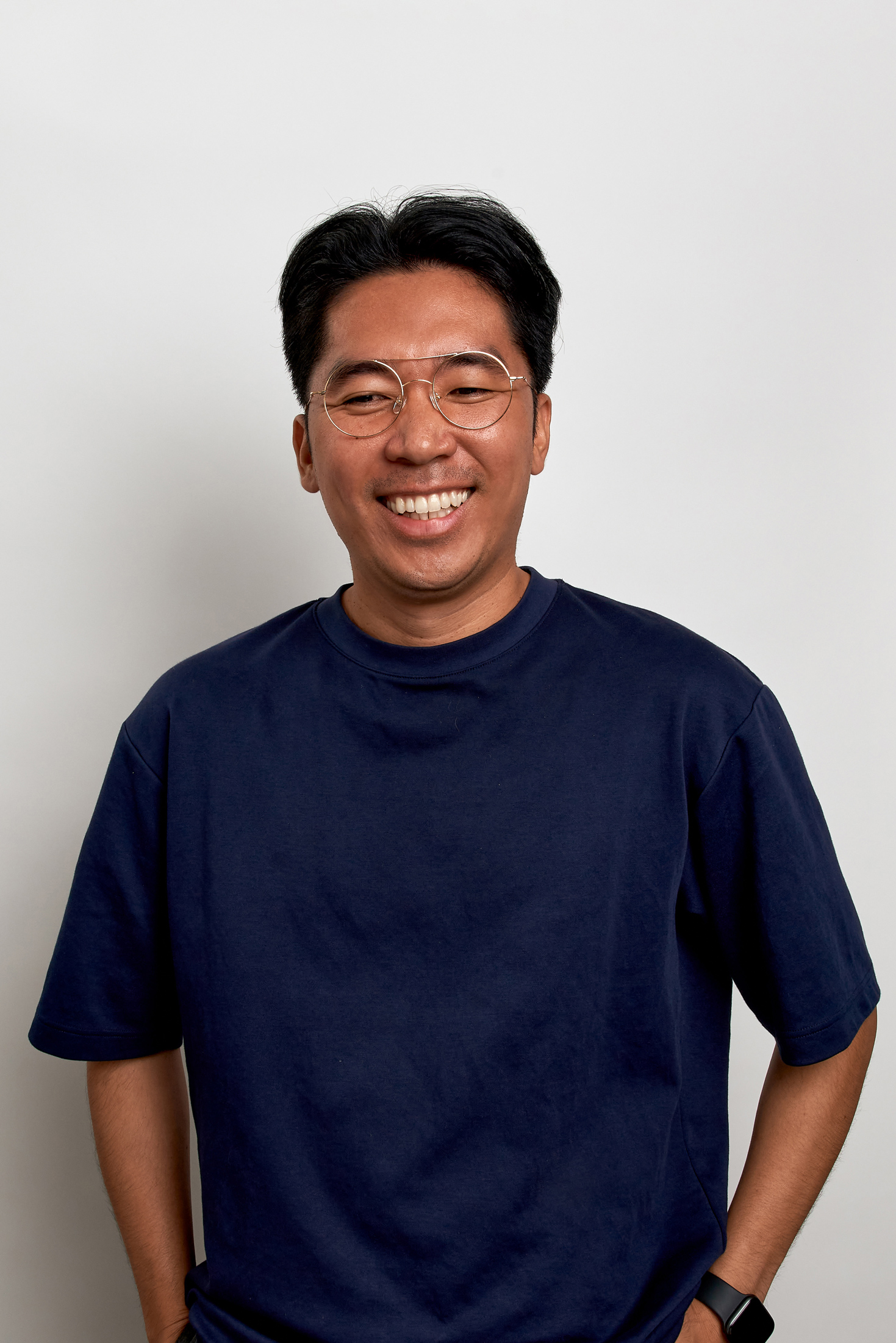 When figuring out your face shape, look for the shape that is the most like yours — it's likely your chin is a little more pointed than the "typical" oval, or your forehead a little wider than the "usual" triangle.
Look at your jawline in the mirror – is it curved or angular?

Now look at your forehead – is it wide or narrow?

Finally, time for your cheekbones – are they soft or prominent?
Once you have these answers, you should have a general idea of what shape your beautiful face is.
Choosing g

lasses for your face shape
Once you've worked out your face shape, you can start to shop around for frames that are a great fit for you.
Remember – these are all just guidelines to help you determine how to balance and compliment your features. (Extra emphasis on guide.) Making your own style rules can be a fun and expressive way to show your personality and vibe.
---
Glasses for square shaped faces
---
Look for rounded, thinner frames that are wider than your cheekbones, while remaining proportional to the length and width of your face:
Round frames: Bring contrast to angular features

Oval frames: Soften and balance defined square face lines

Coloured frames:

Draw attention to the eyes

If you're shopping for sunglasses for a square face, choose curved sunglasses designs that are wider – these will help soften sharp angles and balance your cheekbones. And for a bold statement, give cat-eye shades a try.
Shop Glasses for Square Faces >>
---
Glasses for round faces
---
Round faces are all soft curves and smooth lines, roughly the same width from the jaw up through to the brow. With round faces, the cheeks are usually full and the chin is rounded.
When choosing glasses for round face shapes, select frames that add definition. Choose bold, angular glasses with clean lines:
Rectangular frames: Add contrast to facial structure

Angular and geometric frames: Add sharp, distinct lines to create balance

If you're looking for sunglasses for round faces, stick to the same advice and make a statement while flattering your features with rectangular, browline, or squared-off cat-eye sunnies. 
Shop Glasses for Round Faces >>
---
Glasses for heart shaped faces
---
Heart shaped faces are widest at the brow, narrowing down through to the chin with high cheekbones. This face shape can be either long or round. 
When finding the best glasses for heart shaped faces, get playful with opposites and look for winged-out or wide frames that jut out slightly wider than the forehead, with rounded bases to balance and complement features: 
Aviator frames:

 Add width and contrast 

Rectangular or oval frames:

Bring balance between forehead and chin

Round:

Soften angular features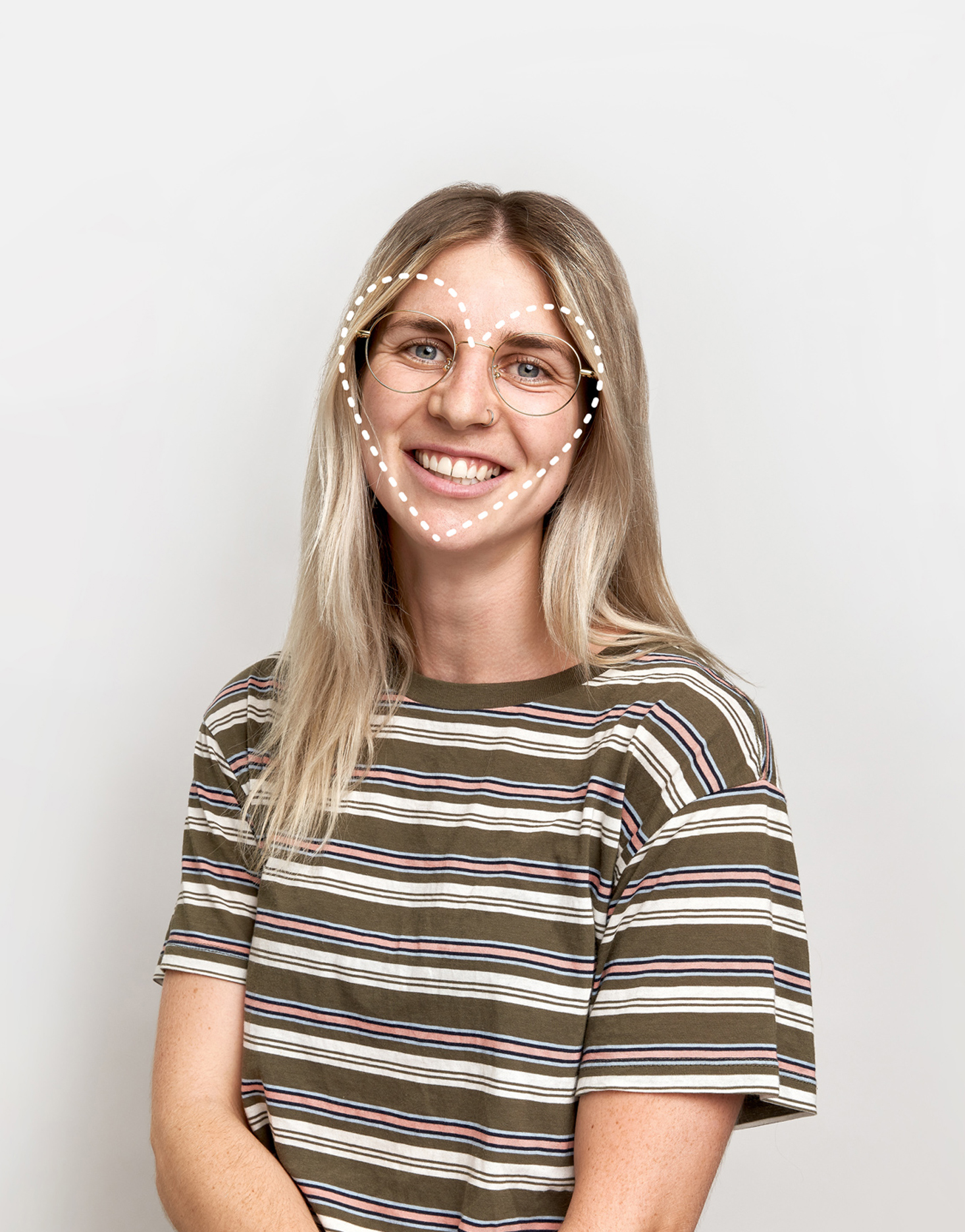 Find frames that are proportionate to your face by looking for styles that have a deep base and subtle wingtips that are slightly wider than your forehead. Aviators and browline sunglasses are great options.
Shop Glasses for Heart Shaped Faces >>
---
Glasses for triangle shaped faces
---
Triangular faces are widest on the bottom and narrowest on top. To compliment your features and add contrast, look for frames that play with opposites (featuring wider top and narrower bottoms) and mix round and angular shapes:
Browline: Defined brow line brings definition 

Aviator: Curved bottom softens cheekbones 

Cat-eyes glasses: Draw attention to your eyes 
Balance your features with a pair of sunnies that are the complete opposite in structure; look for designs that are widest at the top and narrowest at the bottom, like cat-eye sunglasses or browline shapes.
Shop Glasses for Triangle Faces >>
---
Glasses for oval shaped faces
---
Oval shaped faces have a narrow forehead and slightly narrow chin, which typically creates a long face silhouette.
For an oval face, choose glasses that emphasize the natural balance and add angles to your face's subtle curves. Look for frames that are as wide as the widest part of your face, which is typically the area around the eyes, in a shape that adds subtle contrast to your features:
Square or rectangular glasses:

Add sharper angles for definition

Geometric shapes:

Get playful with shapes and angular contrast

Browline:

Wide frames compliment a narrow silhouette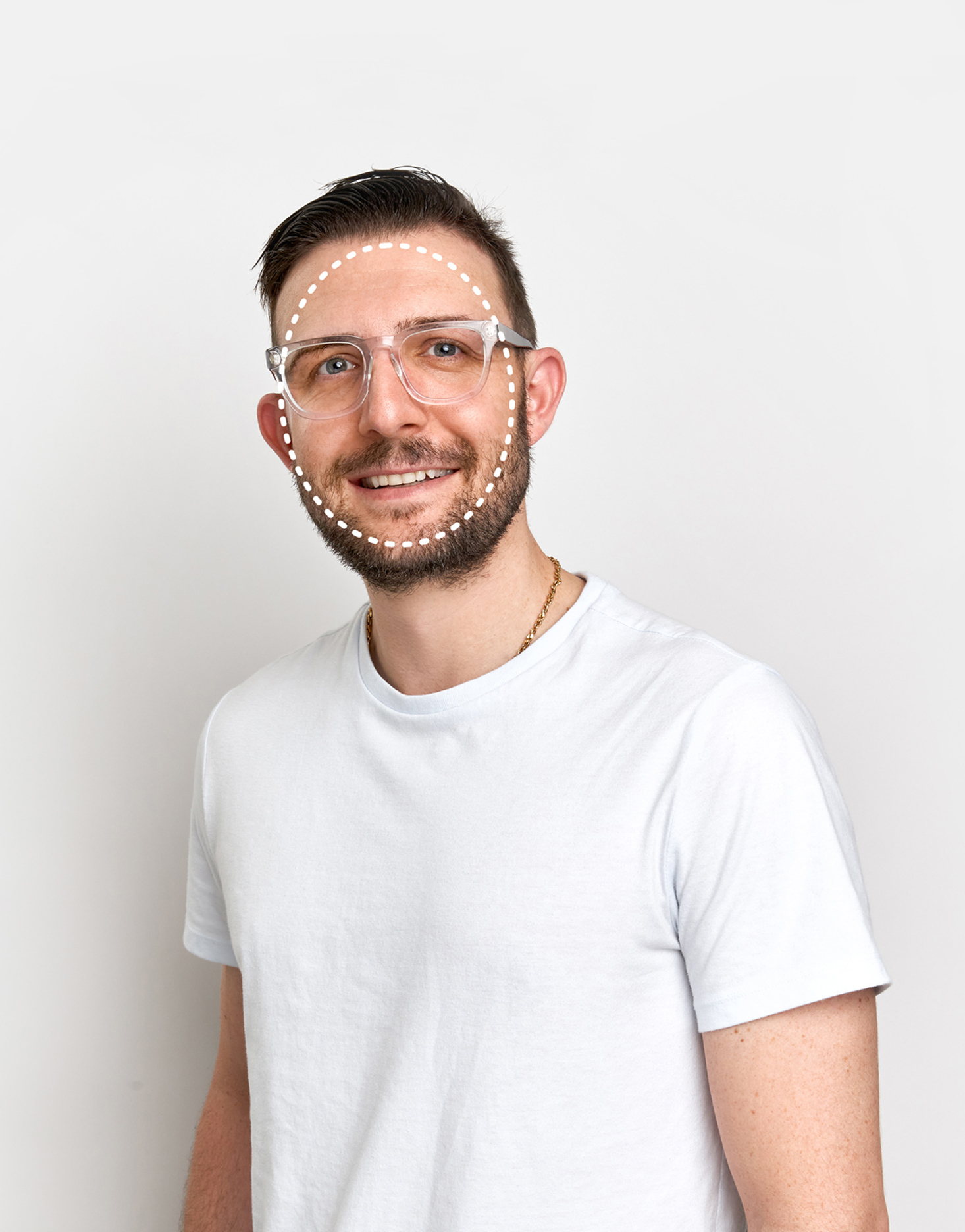 You can have a little – or a lot – of fun with your eyewear choices. Dare to be bold with a statement-making style, like a fierce cat-eye or an edgy pair of aviators. If you'd like to keep it classic instead, try iconic browline sunnies.
Shop Glasses for Oval Faces >>
---
Glasses for diamond shaped faces
---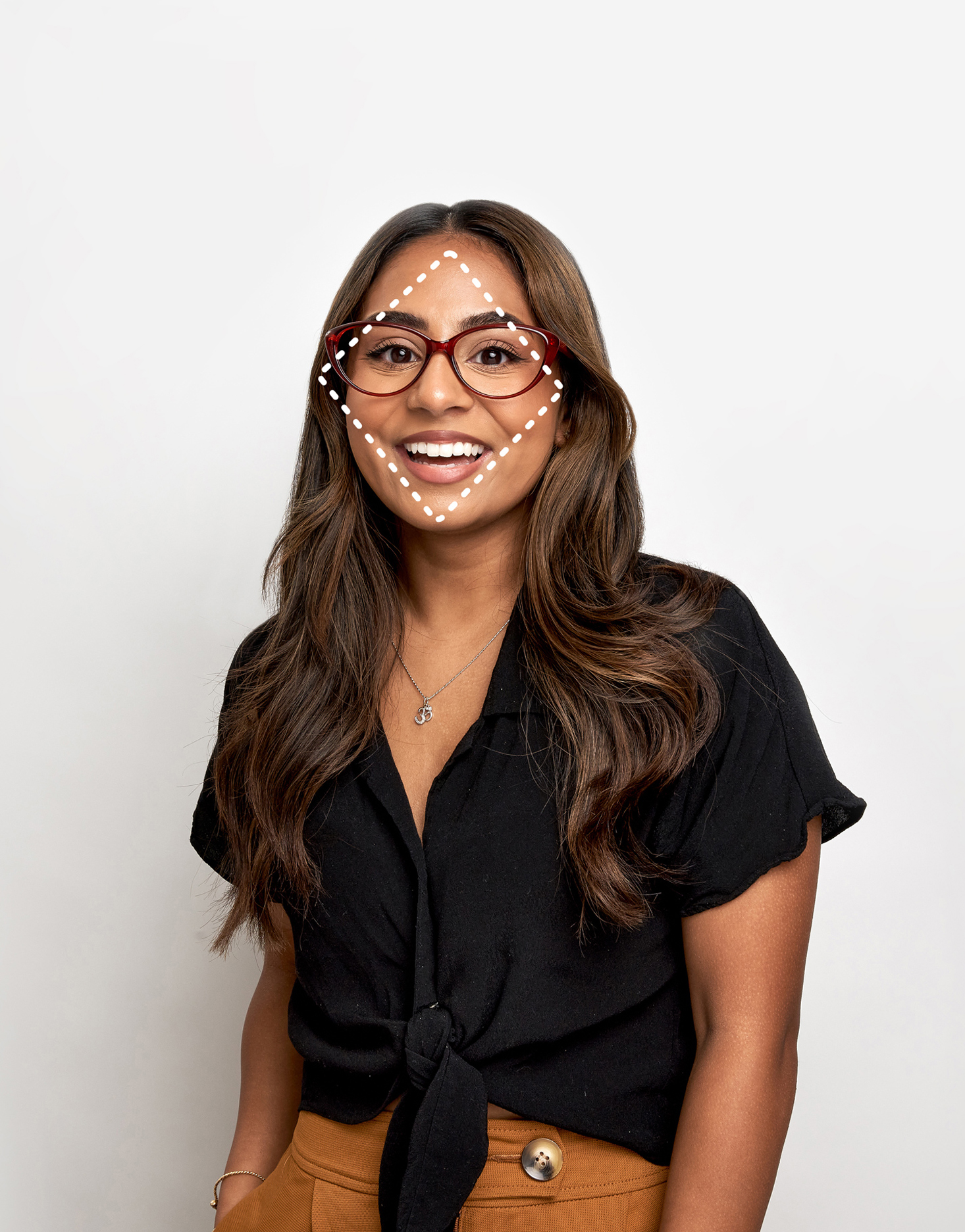 Diamond shaped faces are defined by a narrow forehead and chin with angular jawline, defined cheekbones and full cheeks.
Look for frames that draw attention to your eyes while bringing a softer contrast to angular features. Curved frames with delicate lines tend to be especially complementary for diamond-shaped faces:
Oval glasses: Balance out angular features

Round glasses:

Bring soft contrast to defined forehead and chin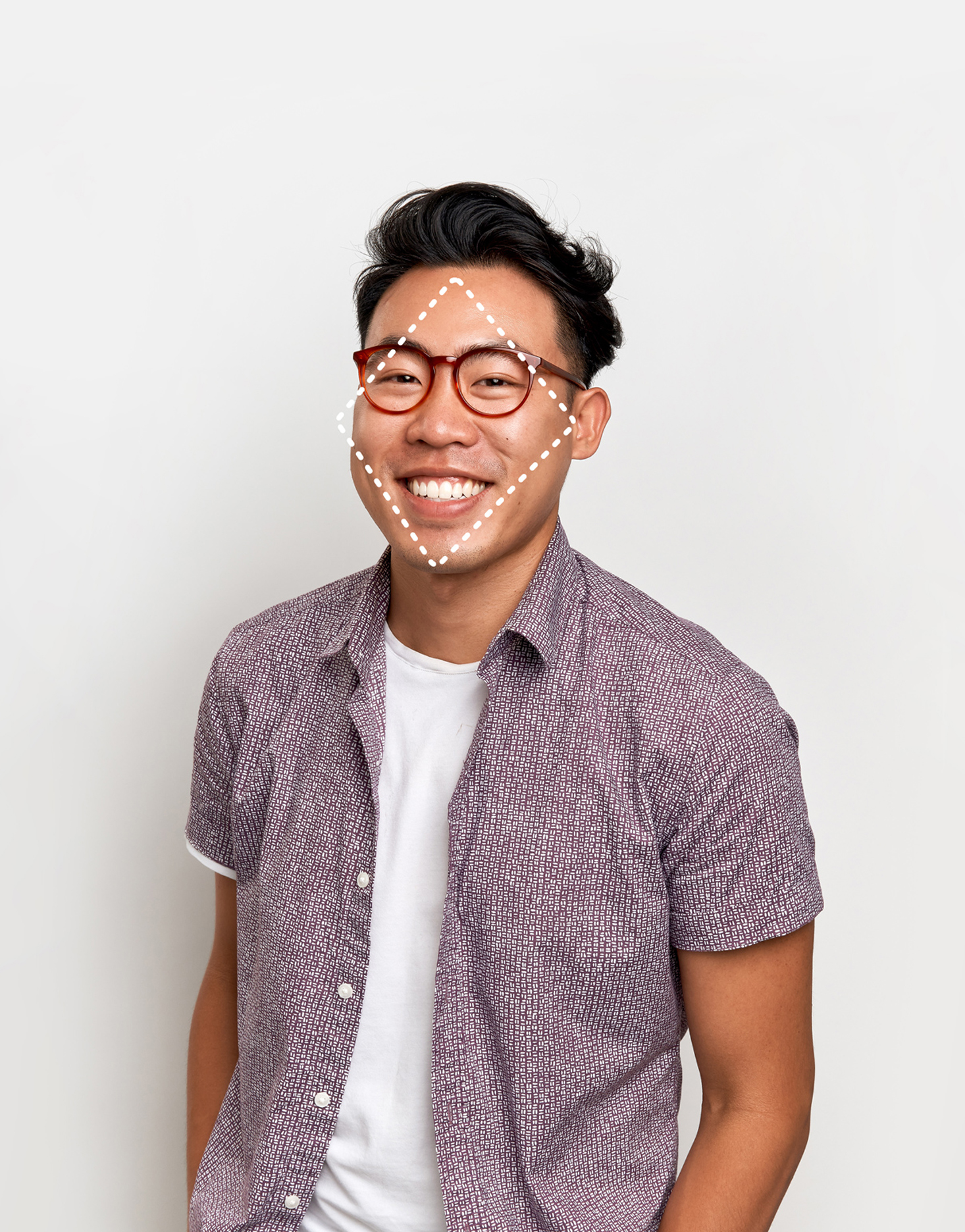 Look for sunglasses that stand out against your features – a bold cat-eye or classic browline will bring both contrast and softness, while rectangular sunglasses are a subtle, complementary option.
---
More

face shapes

and features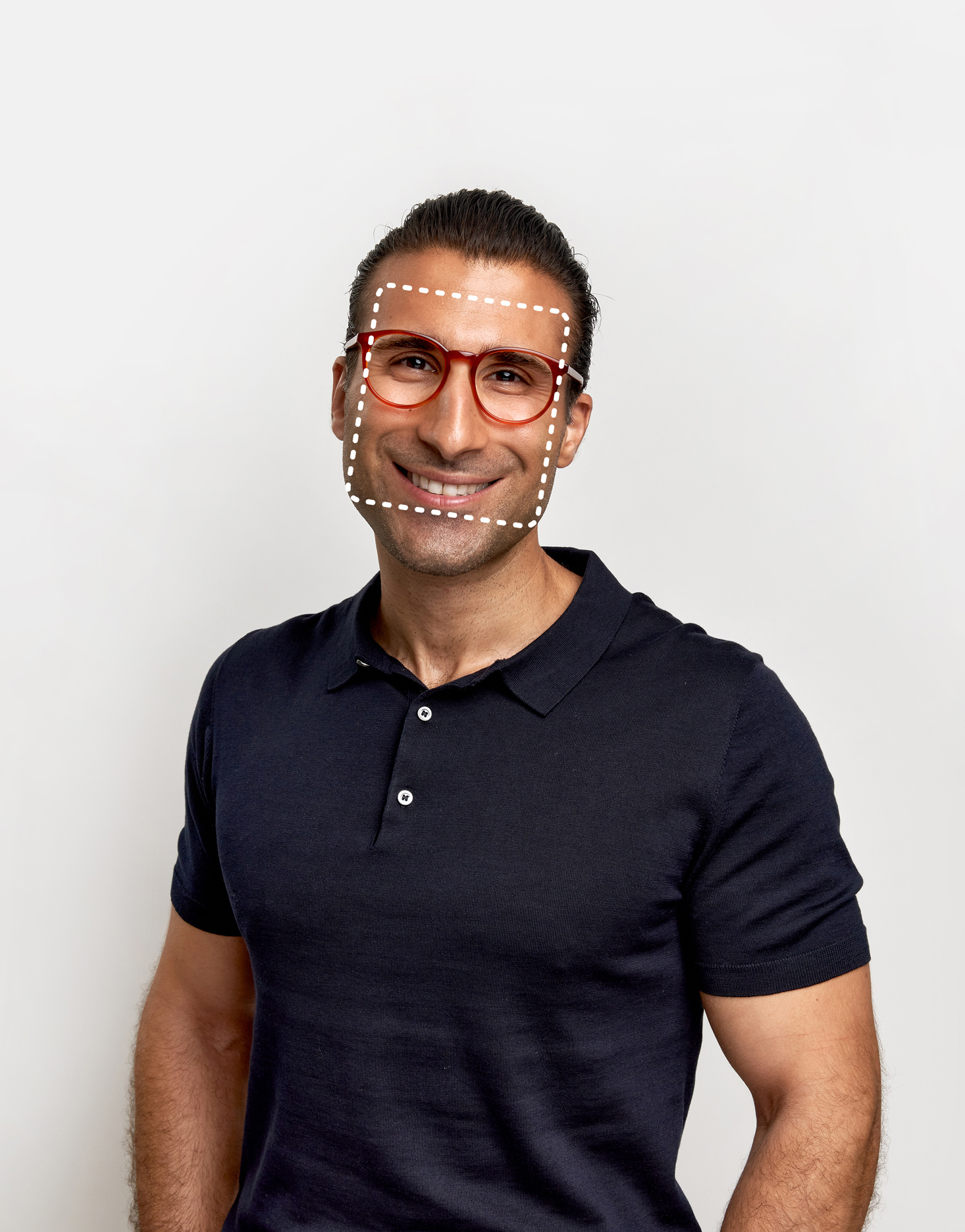 If you're looking for tips based on a specific feature or the size of your face, we've put together some tips.
Glasses for a small face
For a complementary fit, choose glasses that are as wide or slightly wider than your face – look for a lens width of 50mm-52mm and nose bridge of 14mm-16mm. Consider glasses in a shape that adds definition without overpowering your features, such as rectangular, oval, or cat-eye frames.
When looking for glasses for long faces, opt for a shape and style that brings contrast, such as square or geometric frames or a taller, oversized style. Two-toned glasses can also draw attention to the eyes and cheekbones.
Glasses for a wide faces or big head
When shopping for glasses that fit a wide or big head, choosing frames that are slightly wider than your face can often provide complementary proportions.
Glasses for bald men
Choose glasses that reflect your personality and sense of style – frames with sharp lines, such as geometric or square, will create instant contrast, while rectangular or oval frames offer a more subtle effect.
Low-bridge fit glasses
Designed for those who have a low nose bridge, high cheekbones, or wide face, our Low-Bridge Fit glasses ensure a comfy fit (no sliding, no pinching!) crafted for specific face shapes.
Tips for choosing glasses for your face shape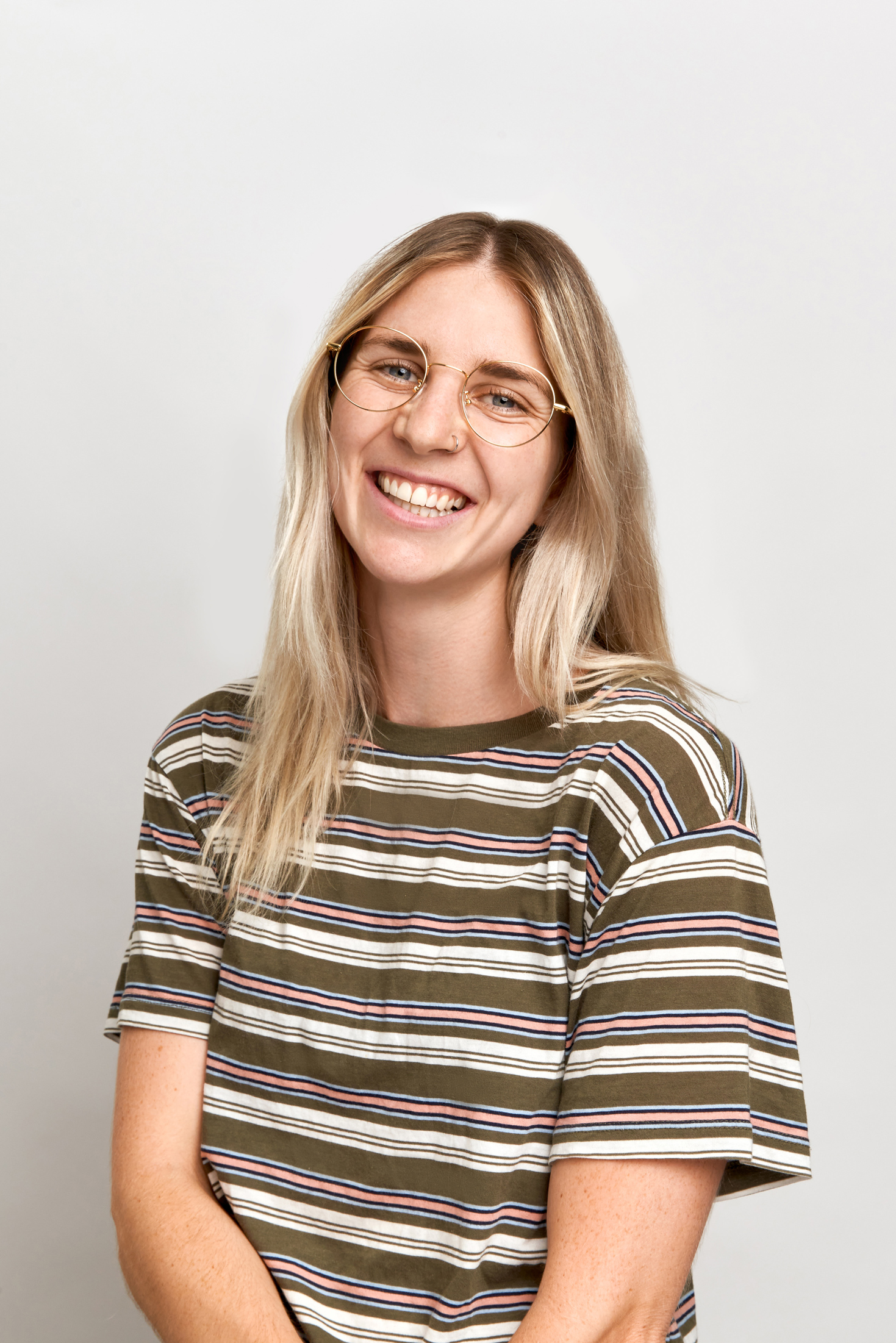 And now, the fun part.
Once you've chosen which glasses are the best option for your face shape, you'll be able to find a pair that will complement your features and bring a natural balance to your profile.
We have frames for round, oval, square, diamond, triangular, and heart shaped faces. (And the same goes for sunglasses). If you need help narrowing down the options, follow our face-shape shopping tips.
Use the Virtual Try On tool: Simply click 'try on', enable your camera, and you can get a sense of how your favourite styles look. Remember – Virtual Try On isn't an indicator of fit, so be sure to enter your PD and check glasses measurements to help get a sense of sizing.
Not sure what your PD is? Learn how to measure PD at home.
Find your measurements: When shopping for the best fit, getting your glasses measurements right is key to finding a pair that make you look and feel great – learn how to find your glasses measurements.
Pick a colour: If you're not sure which glasses colour or material to go for, check out our guide on glasses frame colours for advice on which styles might complement your hair colour and skin tone.
Whether you opt for something bold or subtle, vintage or modern, statement or versatile, we've got plenty of frames to fit your beautiful face. If you've got questions or want to chat more about style, you can reach out to our Customer Service team 24/7 by chat, email, or phone.
Make sure to share your selfies with us using #SeeClearly on Social.
Read more:
See you on social!